TFSource News – Up to 65% off Cyber Week Deals!
We know you're not done shopping yet. In addition to the Cyber Monday Week, we have this week's full TFSource Newsletter. You can also check out the usual round of new preorders and instock items.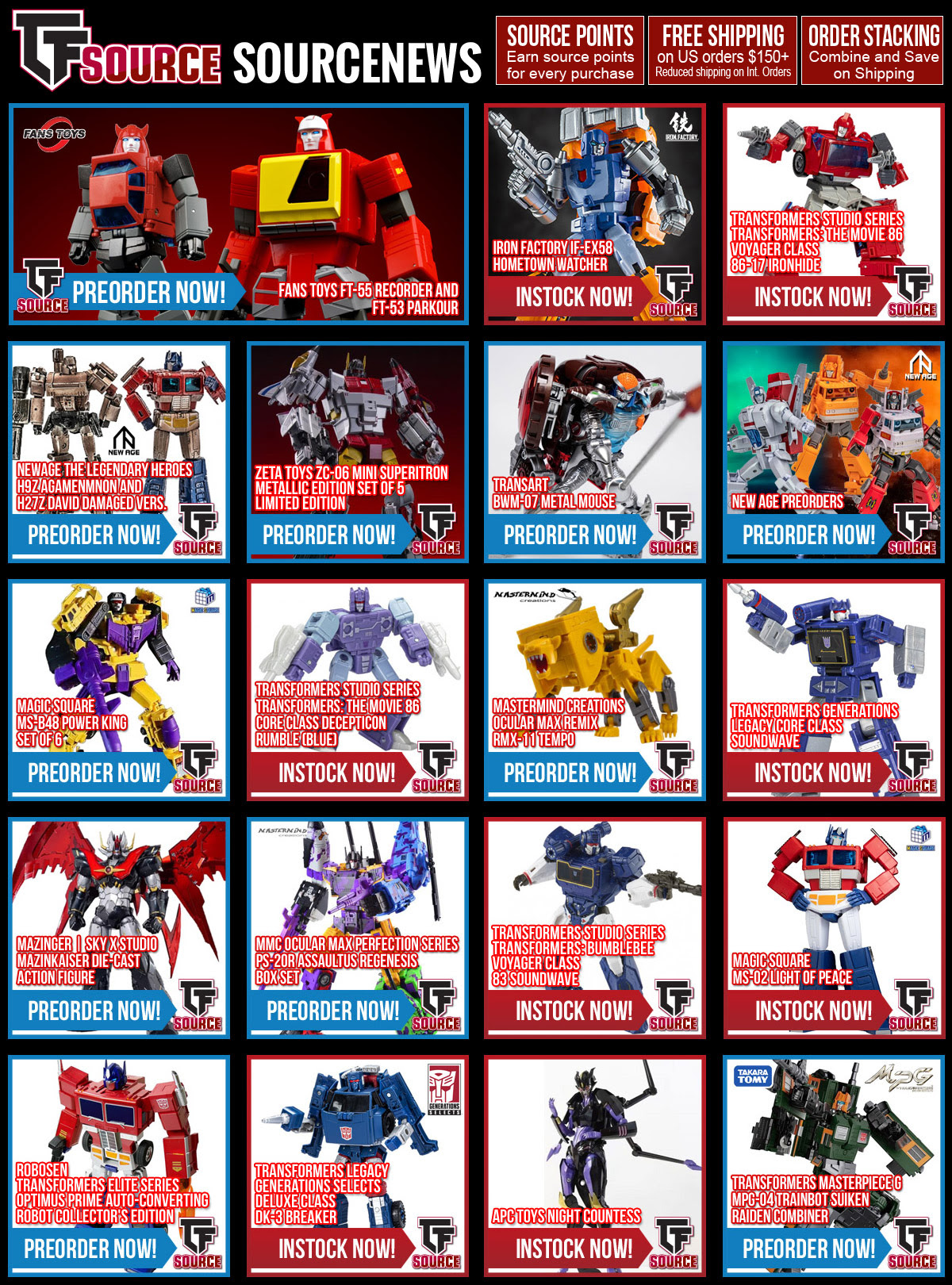 New Preorders!
– CY06 Hugerhino Headstrong | CANG-TOYS
– R-04 Nero Transparent Version | Unique Toys
– Fans Toys FT-55 Recorder and FT-53 Parkour
– ZC-06 Mini Superitron Metallic Edition Set of 5 Limited Edition | Zeta Toys
– H9Z Agamenmnon and H27Z David Damaged Version Set of 2 | Newage the Legendary Heroes
– TransArt BWM-07 Metal Mouse
– Newage the Legendary Heroes H47 Daedalus, H46W Backdraft and H45EXR Firefox Chameleon Paint Version
– MS-B48 Power King Set of 6 | Magic Square
– RMX-11 Tempo | Mastermind Creations Ocular Max Remix
– A06 Vulkan | Toy Notch Astrobots
– Bike Robo Machine Build Series | Machine Robo: Revenge of Cronos
– DA-96 Robot Base Dia Fighter/S | Diaclone Reboot | Takara Tomy
New Instock Items!
– Iron Factory IF-EX58 Hometown Watcher
– Custodial Crew and Pet Mob Set of 32 | Transformers BotBots
– Hunger Hub and Gamer Geeks Box of 20 | Transformers BotBots
– 86-17 Ironhide Voyager Class | Transformers Studio Series | Transformers: The Movie 86
– DK-3 Breaker Legacy Deluxe Class | Transformers Legacy Generations Selects
– Night Countess | APC Toys
– X-Transbots MX-17R2 Surveillant, MX-17R1 Staunch, MX-17B Shout Black Diamond Version le
– Soundwave Legacy Core Class | Transformers Generations Legacy
– Transformers Legacy Deluxe Class Predacon Tarantulas
– Transformers Studio Series | Transformers: Bumblebee Deluxe Class SS 85 Arcee
Arriving Soon!
– Decepticon Rumble (Blue) Core Class | Transformers Studio Series | Transformers: The Movie 86
________________________
Have you signed up for Source Points yet? Earn points with every purchase towards Freebies! Accumulated points and want to redeem them? Click the following link to enroll or redeem your points today!
Source Points – TF Source
________________________
________________________
Become a fan of TFSource today!


Why go to the store when you can go to the SOURCE!
________________________
You can also follow us on Twitter!