TFSource News – Transformers Generations Legacy Preorders, MDLX Optimus Prime, Dr. Wu and More!
We have a fresh newsletter from TFSource. This weekend's Transformers Legacy reveals are now up for preorder. Get them while you can, and while you're at it check out this year's Fall Clearance Sale.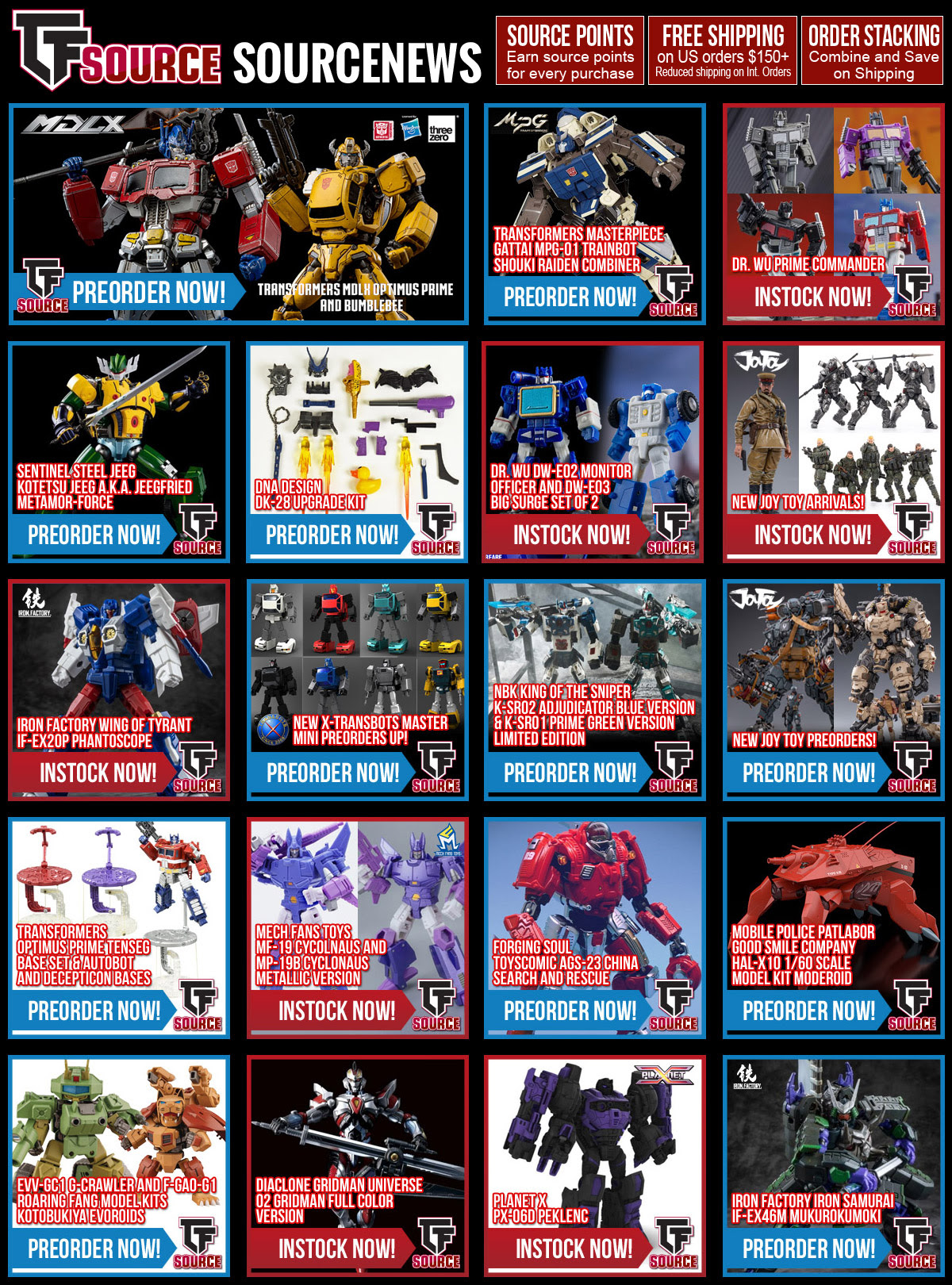 New Preorders!
– Transformers Generations Legacy Preorders
– Transformers Optimus Prime MDLX Scale Collectible Figure
– Transformers Masterpiece Gattai MPG-01 Trainbot Shouki Raiden Combiner
– Forging Soul | ToysComic AGS-23 China Search and Rescue
– Kotetsu Jeeg A.K.A. Jeegfried Metamor-Force | Steel Jeeg | Sentinel
– DK-28 Upgrade Kit for Transformers WFC Kingdom WFC-K4, WFC-K8, and WFC-K10 | DNA Design
– NBK King of The Sniper K-SR02 Adjudicator Blue Version and K-SR01 Prime Green Version Limited Edition
– X-Transbots Master Mini Preorders
– Kotobukiya Evoroids EVV-GC1 G-Crawler F-GAO-G1 Roaring Fang Model Kits
– New Joy Toy Preorders!
– HAL-X10 1/60 Scale Model Kit MODEROID | Mobile Police Patlabor | Good Smile Company
New Instock Items!
– Mech Fans Toys MF-19 Cycolnaus and MF-19B Cycolnaus Metallic Version
– Planet X PX-06D Peklenc
– Dr. Wu Prime Commander Various Versions
– Diaclone Gridman Universe 02 Gridman Full Color Version and 03 Gridsuit
– DA-74 Triverse Trirambler D Caliber | Diaclone Reboot
– DW-E02 Monitor Officer and DW-E03 Big Surge Set of 2 | Dr. Wu
– Iron Factory Wing Of Tyrant IF-EX20P Phantoscope
– New Joy Toy Arrivals!
– Newage the Legendary Heroes H13EX Lucifer Toy Version
________________________
Have you signed up for Source Points yet? Earn points with every purchase towards Freebies! Accumulated points and want to redeem them? Click the following link to enroll or redeem your points today!
Source Points – TF Source
________________________
________________________
Become a fan of TFSource today!


Why go to the store when you can go to the SOURCE!
________________________
You can also follow us on Twitter!