TFSource News – Robosen Auto-Converting Optimus Prime and Trailer, Transformers Legacy & More!
This week at TFSource, Robosen Auto-Converting Optimus Prime is instock and its accompanying Auto-Converting Trailer is up for pre-order. Also check out New Transformers Legacy Preorders and this year's Spring Sale!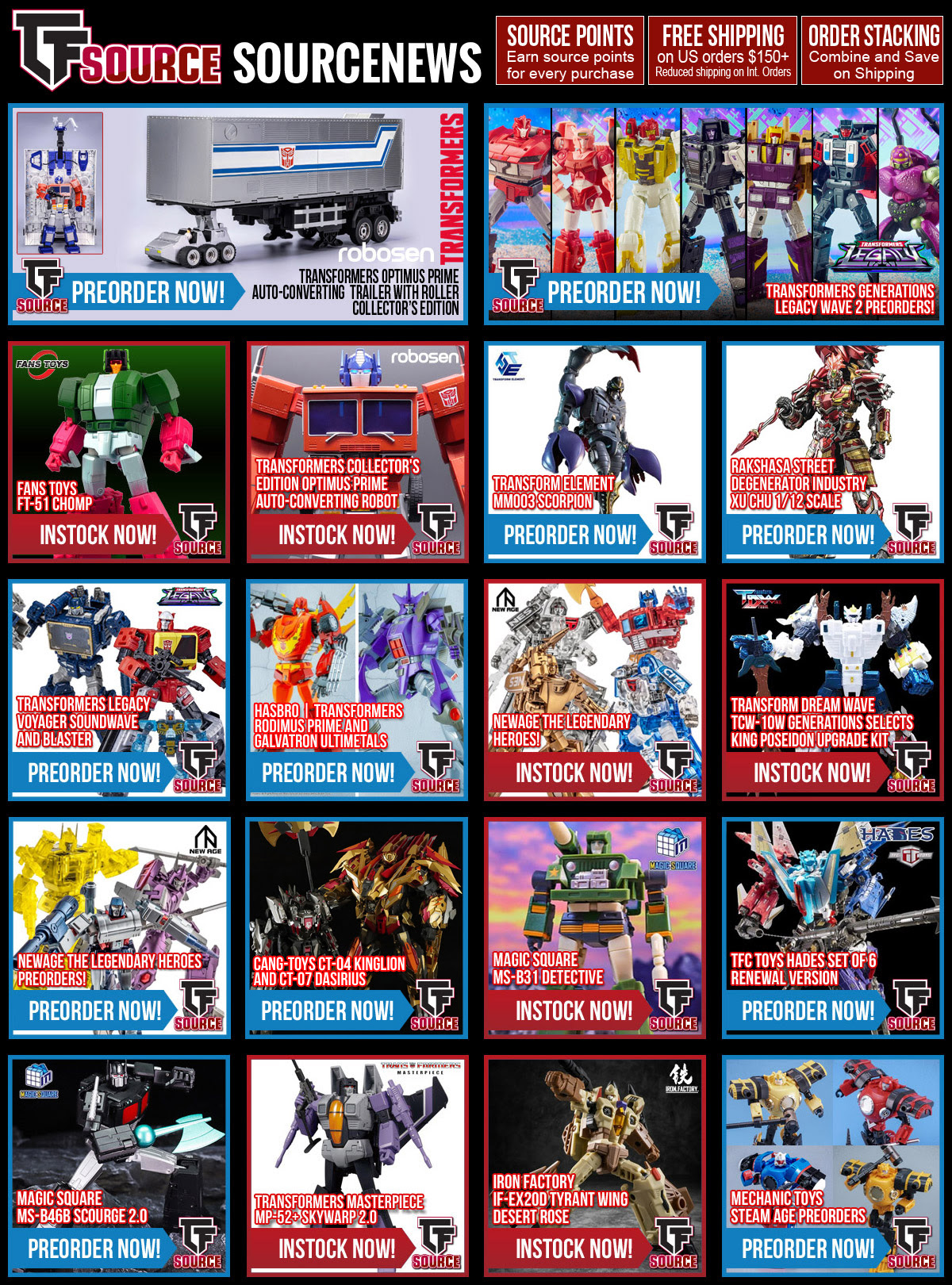 New Instock Items!
– Transformers Collector's Edition Optimus Prime Auto-Converting Robot
– Newage the Legendary Heroes
– Fans Toys FT-51 Chomp
– Magic Square MS-B31 Detective
– Transform Dream Wave TCW-10W Generations Selects King Poseidon Upgrade Kit
– Transformers Masterpiece MP-52+ Skywarp 2.0
– Diaclone Reboot DA-80 Big Powered GV Verse Caliber Version
– Premium Finish Voyager WFC-03 Ultra Magnus and SS-03 Megatron
– Iron Factory IF-EX20D Tyrant Wing Desert Rose
– Ultraman Suit Tiga FigZero Collectible Figure | Ultraman Ultraman Suit Another Universe | threezero
New Preorders!
– CT-04 Kinglion and CT-07 Dasirius | CANG-TOYS
– CDL | CDL-02 ALT and CDL-03 CAT
– Optimus Prime Auto-Converting Robot Trailer | Transformers Collector's Edition
– New Transformers Legacy Preorders!
– Xu Chu 1/12 Scale | Rakshasa Street | Degenerator Industry
– MM003 Scorpion | Transform Element
– Newage The Legendary Heroes Preorders
– Hasbro Transformers UltimetalS Galvatron and Rodimus Prime
– Magic Square MS-B35 Blues
– Gundam Metal Build Gundam Devise Exia Mobile Suit Gundam | Metal Build | Bandai Spirits
– MS-B46B Scourge 2.0 | Magic Square
– DA-92 Armor Wrap Combination Powered Convoy | Diaclone Reboot | Takara Tomy
– MB-14A Flame Breaker | Fans Hobby
– Hades Set of 6 Renewal Version | TFC Toys

________________________
Have you signed up for Source Points yet? Earn points with every purchase towards Freebies! Accumulated points and want to redeem them? Click the following link to enroll or redeem your points today!
Source Points – TF Source
________________________
________________________
Become a fan of TFSource today!


Why go to the store when you can go to the SOURCE!
________________________
You can also follow us on Twitter!