TFSource News – Moon Studio Ice Land, RIOBOT RW-1 R-Gun Powered, Newage Legendary Heroes and More!
Christmas may be over but that just means it's time to spend your cash gifts! This week at TFSource Moon Studio Iceland is now instock, and preorders are open for Newage Jones and its various repaints, including a surprise homage to a 2007 Movie toy. Definitely check that out, and don't forget this year's Winter Sale is still ongoing.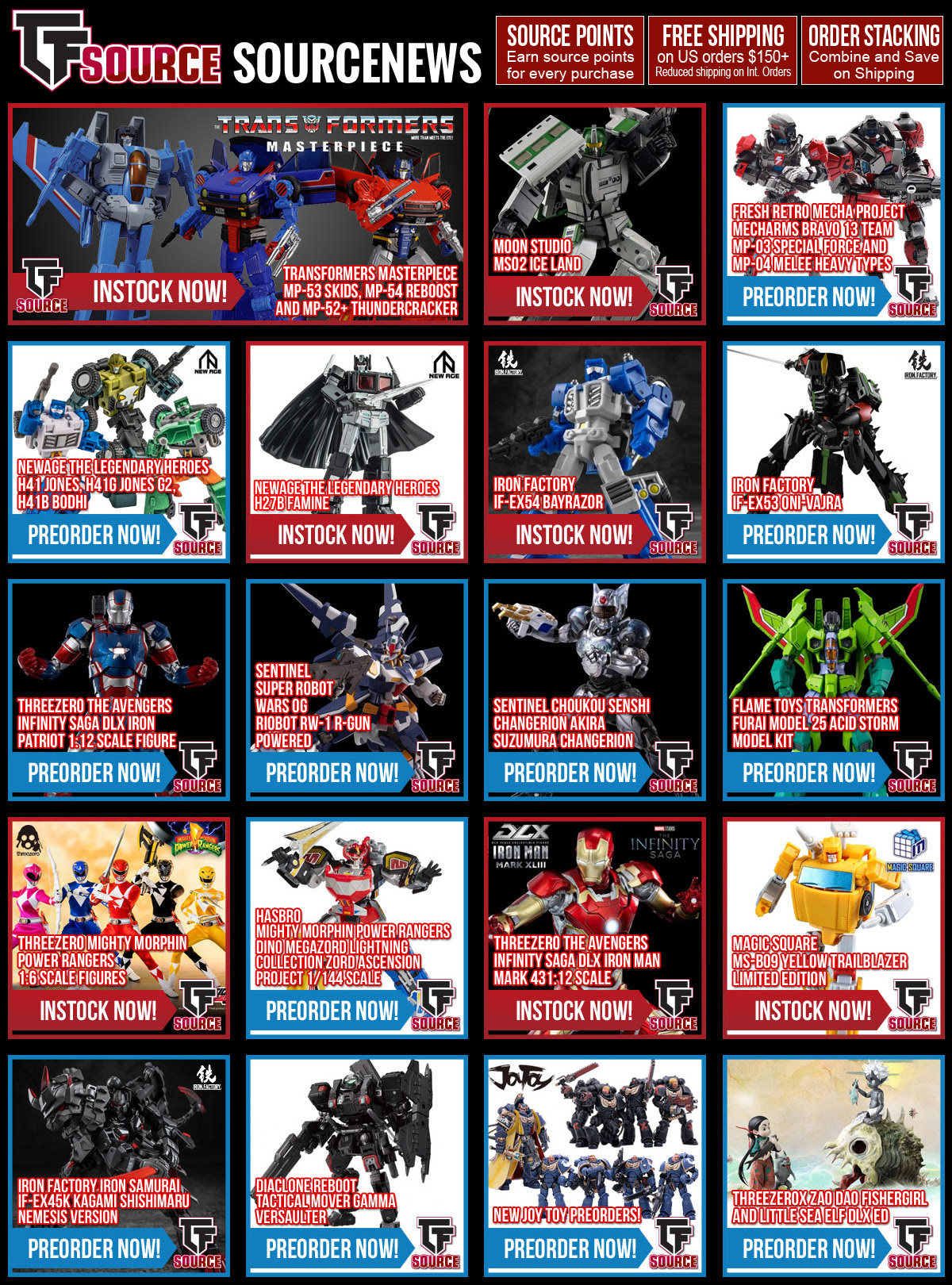 New Instock Items!
– Moon Studio MS02 Ice Land
– Threezero Mighty Morphin Power Rangers 1:6 Scale Figures
– Iron Factory IF-EX54 Bayrazor
– Iron Man Mark 43 1:12 Scale Figure | Threezero The Avengers Infinity Saga DLX
– Newage the Legendary Heroes H27B Famine
– Transformers Masterpiece MP-53 Skids, MP-54 Reboost, and MP-52+ Thundercracker Version 2.0
– MS-B09 Yellow Trailblazer Limited Edition | Magic Square
– Super Galaxy Gurren Lagann Model Kit | Tengen Toppa Gurren Lagann | Sentinel Plaiobot
– MX-33 Jocund | X-Transbots MasterX
– Transformers Generations Selects War for Cybertron Trilogy WFC-GS26 Artfire
New Preorders!
– RIOBOT RW-1 R-Gun Powered | Super Robot Wars OG | Sentinel
– Newage the Legendary Heroes H41 Jones, H41G Jones G2 Version and H41B Bodhi
– IF-EX53 Oni-vajra | Iron Factory Iron Samurai
– Transformers Furai Model | Flame Toys 25 Acid Storm Model Kit
– Fishergirl and Little Sea Elf Deluxe Edition | ThreezeroX Zao Dao
– Mecharms Bravo 13 Team | Mecha Project | Fresh Retro MP-04 Melee Heavy and MP-03 Special Force Types
– Iron Patriot 1:12 Scale Figure | Threezero The Avengers Infinity Saga DLX
– Kuromukuro Model Kit MODEROID | Kuromukuro | Good Smile Company
– MC03 Little Monster | Dr. Wu
– Dino Megazord Lightning Collection Zord Ascension Project 1/144 Scale | Mighty Morphin Power Rangers | Hasbro
– Joy Toy Preorders
– Transformers Bumblebee Studio Series Figures
________________________
Have you signed up for Source Points yet? Earn points with every purchase towards Freebies! Accumulated points and want to redeem them? Click the following link to enroll or redeem your points today!
Source Points – TF Source
________________________
________________________
Become a fan of TFSource today!


Why go to the store when you can go to the SOURCE!
________________________
You can also follow us on Twitter!