TFSource News – Masterpiece MPG-05 Trainbot Seizan, MP-56 Trailbreaker, Flame Toys Soundwave & More!
We have a newsletter from TfSource. Read on to check out this week's new preorders and in-stock arrivals.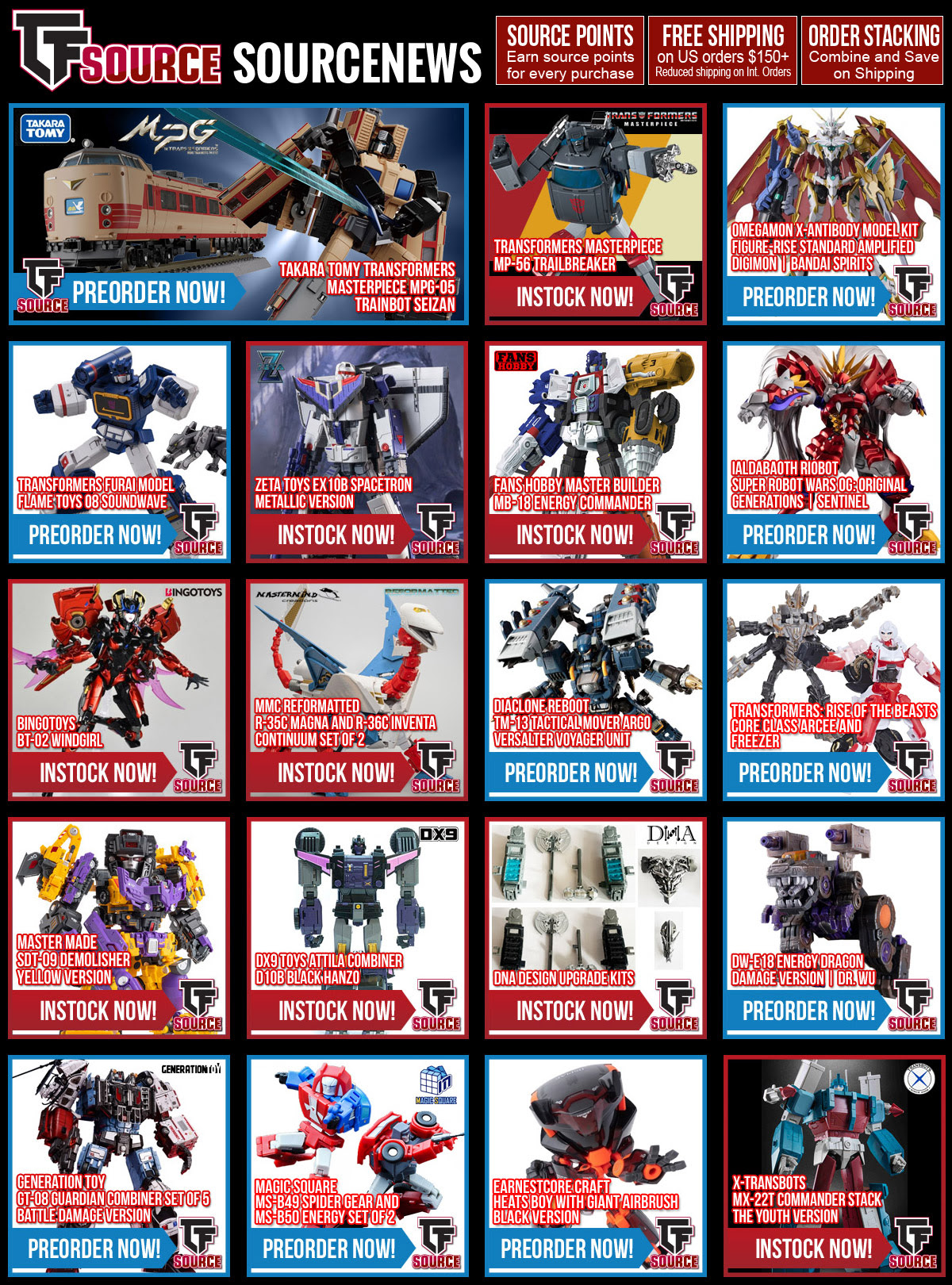 New Preorders!
– MPG-05 Trainbot Seizan Raiden Combiner | Transformers Masterpiece G
– TM-13 Tactical Mover Argo Versalter Voyager Unit | Diaclone Reboot
– 08 Soundwave | Transformers Furai Model | Flame Toys
– Ialdabaoth RIOBOT | Super Robot Wars OG: Original Generations | Sentinel
– Heats Boy with Giant Airbrush Black Version | Earnestcore Craft
– Transformers Studio Series Transformers: Rise Of The Beasts Core Class Terrorcon Freezer and Arcee
– GT-08 Guardian Combiner Set of 5 Battle Damage Version | Generation Toy
– DK-40 Upgrade Kit for Transformers Legacy Transmetal II Megatron | DNA Design
– DK-41 Upgrade Kit for Transformers Generations Victory Saber | DNA Design
– DW-E14 Energy Dragon Damage Version | Dr. Wu
New Instock Items!
– Transformers Masterpiece MP-56 Trailbreaker
– MB-18 Energy Commander | Fans Hobby
– DNA Upgrade Kits – DK-14S, DK-14P and DK-35
– R-35C Magna and R-36C Inventa Continuum Set of 2 | Mastermind Creations Reformatted
– EX10B Spacetron Metallic Version | Zeta Toys
– BT-02 Windgirl | BingoToys
– Ultimate Gravion Metamor-Force Bariation | Super Heavy God Gravion Zwei | Sentinel
– Xing Tian | TOYSEASY
– SDT-09 Demolisher Yellow Version | Master Made
– Devil Saviour Smash G1 Version
________________________
Have you signed up for Source Points yet? Earn points with every purchase towards Freebies! Accumulated points and want to redeem them? Click the following link to enroll or redeem your points today!
Source Points – TF Source
________________________
________________________
Become a fan of TFSource today!


Why go to the store when you can go to the SOURCE!
________________________
You can also follow us on Twitter!