TFSource News – Make Toys Convention Exclusive Slip Swarm, MP-59 Rhinox, Nemesis Bridge Set and More!
We have a newsletter from TfSource. Read on to check out this week's new preorders and in-stock arrivals.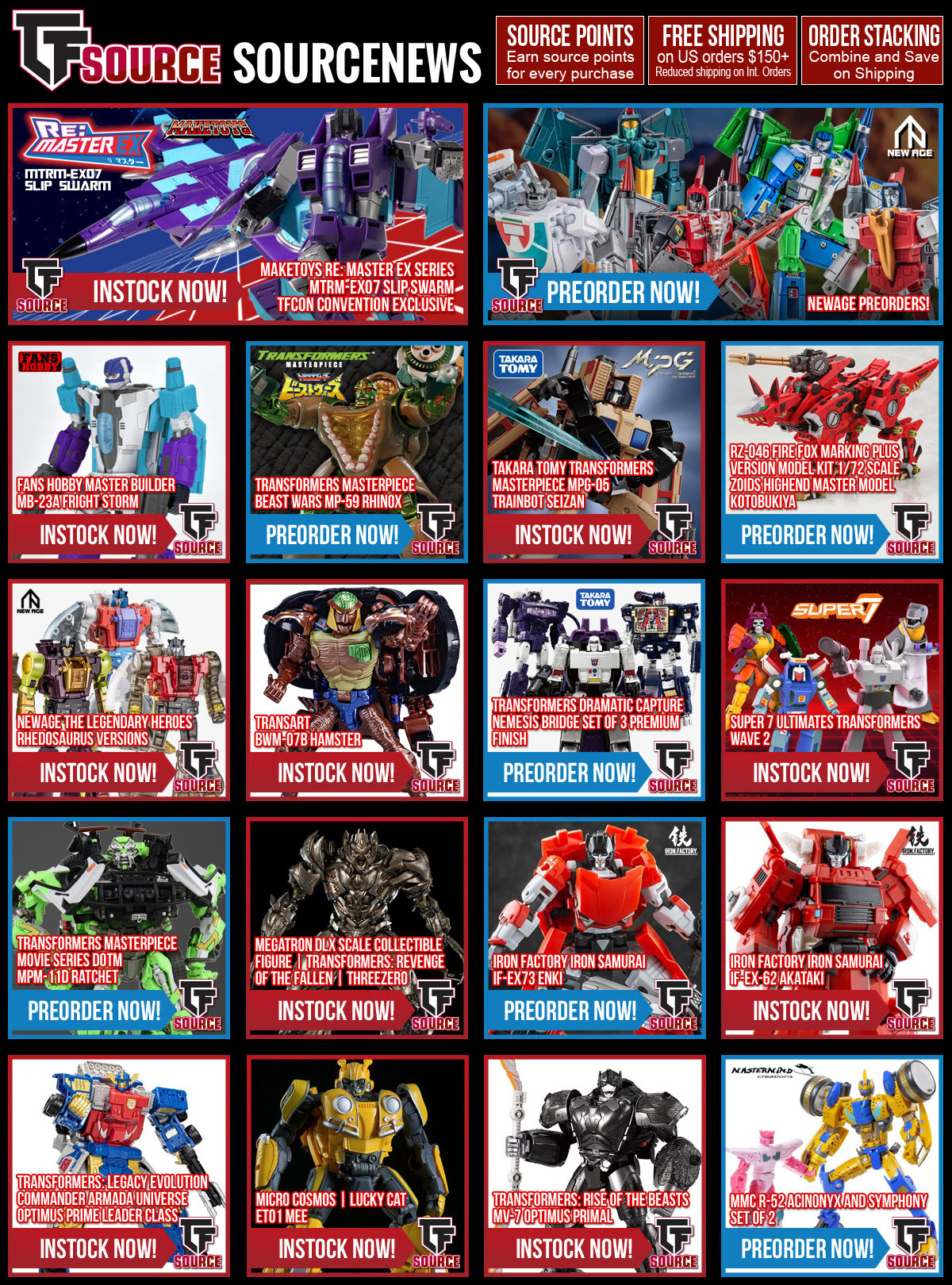 New Instock Items!
– MTRM-EX07 Slip Swarm TFCon Convention Exclusive | MakeToys Re: Master Ex Series
– MB-23A Fright Storm | Fans Hobby Master Builder
– BWM-07B Hamster | TransArt
– MPG-05 Trainbot Seizan Raiden Combiner | Transformers Masterpiece G
– Transformers Ultimates | Super7 – Wave 2
– Megatron DLX Scale Collectible Figure | Transformers: Revenge Of The Fallen | threezero
– ET01 Mee | Micro Cosmos | Lucky Cat
– 86-22 Brawn Deluxe Class | Transformers Studio Series | Transformers: The Movie 86
– Newage the Legendary Heroes Rhedosaurus – 3 Versions
– Blue Jet Machine Build Series | Machine Robo: Revenge of Cronos
New Preorders!
– Newage the Legendary Heroes H49 Hammond, H57V Freyr G2 Version, H57C Freyr, H57B Toruk and H57EX Freyr
– RZ-046 Fire Fox Marking Plus Version Model Kit 1/72 Scale | Zoids Highend Master Model | Kotobukiya
– MP-59 Rhinox | Transformers Masterpiece Beast Wars
– BWVS-08 Ghost of Starscream vs Waspinator Set of 2 Premium Finish | Transformers: Beast Wars
– Nemesis Bridge Set of 3 Premium Finish | Transformers Dramatic Capture
– IF-EX73 Enki | Iron Factory Iron Samurai
– MPM-11D Ratchet | Transformers: Dark of the Moon | Transformers Masterpiece Movie Series
– MS-G04 Truck Boy | Magic Square Mukudo
– D-02 D Vehicles Set 2 | Diaclone Reboot
– Kampfer Metal Build | Bandai Tamashii Nations | Mobile Suit Gundam 0080: War in the Pocket
– DW-E24 Firefighters | Dr. Wu
________________________
Have you signed up for Source Points yet? Earn points with every purchase towards Freebies! Accumulated points and want to redeem them? Click the following link to enroll or redeem your points today!
Source Points – TF Source
________________________
________________________
Become a fan of TFSource today!


Why go to the store when you can go to the SOURCE!
________________________