TFSource News – Generations Legacy, MMC Assualtus Regenesis, XTB Commander Stack and More!
We have a newsletter from TFSource. It's a great week for third party fans. Preorders are now open for X-Transbots' very impressive looking Commander Stack, easily the most cartoon accurate Ultra Magnus we've yet seen. As well, Mastermind Creations has a new Sky Lynx, and their Bruticus is back in Generation 2 colors.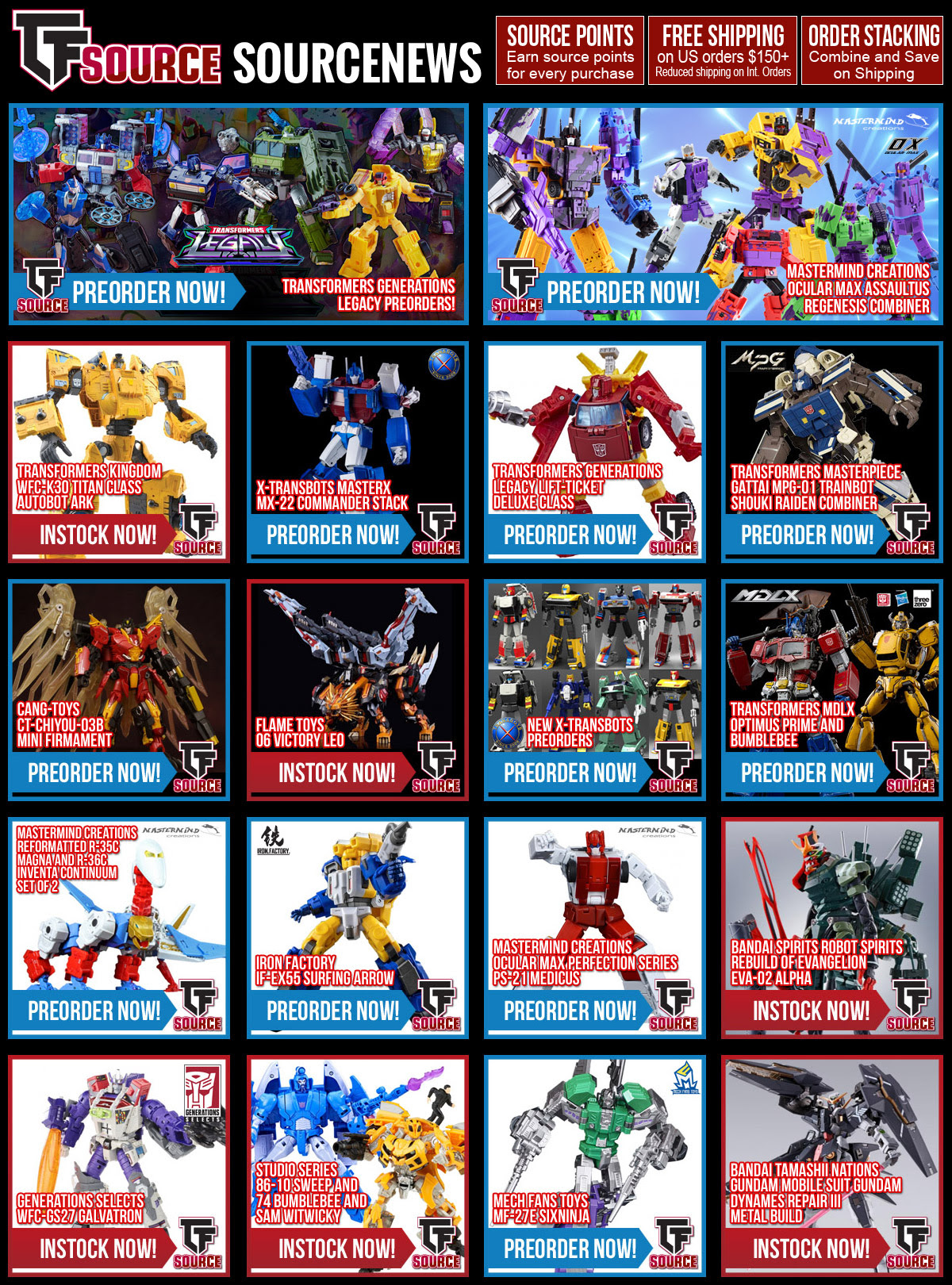 New Preorders!
– Mastermind Creations Ocular Max Assaultus Regenesis Combiner Figures
– X-Transbots MasterX MX-22 Commander Stack
– Transformers Generations Legacy Preorders
– CANG-TOYS CT-Chiyou-03B Mini Firmament
– New X-Transbots Preorders
– Transformers Generations Legacy Deluxe Class Lift-Ticket
– R-35C Magna and R-36C Inventa Continuum Set of 2 | Mastermind Creations Reformatted
– Unicorn Gundam Perfectibility (Destroy Mode)
– IF-EX55 Surfing Arrow | Iron Factory
– MF-27E SixNinja | Mech Fans Toys
– Transformers Optimus Prime MDLX Scale Collectible Figure
– Transformers Masterpiece Gattai MPG-01 Trainbot Shouki Raiden Combiner
New Instock Items!
– Transformers Kingdom Titan Class WFC-K30 Autobot Ark
– Rebuild of Evangelion Bandai Spirits Robot Spirits EVA-02 Alpha
– Transformers Studio Series Deluxe 74 Bumblebee and Sam Witwicky and 86-10 Sweep Voyager Class
– 06 Victory Leo | Transformers Victory Kuro Kara Kuri | Flame Toys
– Dynames Repair III Metal Build | Bandai Tamashii Nations | Gundam Mobile Suit Gundam
– WFC-GS27 Galvatron | Transformers Generations Selects War for Cybertron Trilogy
– Mazinkaiser Haou Set | Mazinkaiser | Sentinel Hagane Works
– Mech Fans Toys MF-19 Cycolnaus and MF-19B Cycolnaus Metallic Version
– Planet X PX-06D Peklenc
– Dr. Wu Prime Commander Various Versions
– Diaclone Gridman Universe 02 Gridman Full Color Version and 03 Gridsuit
________________________
Have you signed up for Source Points yet? Earn points with every purchase towards Freebies! Accumulated points and want to redeem them? Click the following link to enroll or redeem your points today!
Source Points – TF Source
________________________
________________________
Become a fan of TFSource today!


Why go to the store when you can go to the SOURCE!
________________________
You can also follow us on Twitter!