TFSource News – Fans Toys Sale – Final day to Save up to $160 on Select Fans Toys Items!
Today is the last day of the Fans Toys Sale at TFSource! Hurry on over to TFSource and get what you can, because you never know when you're going to get another chance at Fans Toys releases. While you're there you can also preorder Fans Hobby Energy Commander, a surprisingly cool looking release based on Energon Optimus Prime, that aims to fix some of the flaws while embracing what made the design fun. We may never get another Energon Prime, so check it out!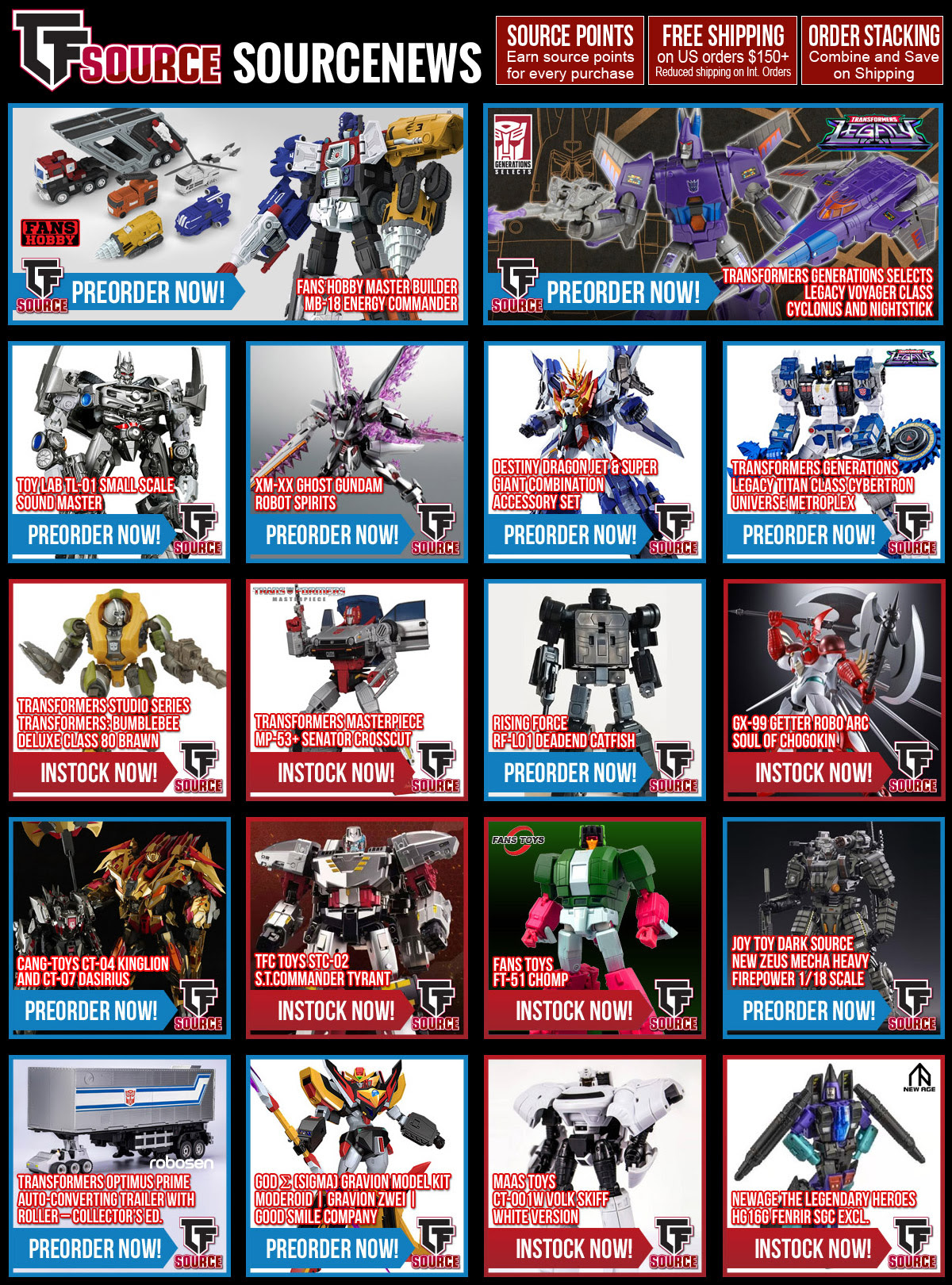 New Preorders!
– Cyclonus and Nightstick Voyager Class | Transformers Legacy Generations Selects
– MB-18 Energy Commander | Fans Hobby Master Builder
– Destiny Dragon Jet & Super Giant Combination Accessory Set SMP Alternative Destiny | Digimon | Bandai Spirits
– XM-XX Ghost Gundam Robot Spirits | Bandai Tamashii Nations | Gundam Mobile Suit Crossbone Gundam
– RF-L01 Deadend Catfish | Rising Force
– TL-01 Small Scale Sound Master | Toy Lab
– New Zeus Mecha Heavy Firepower 1/18 Scale | Joy Toy Dark Source
– Metroplex Cybertron Universe Titan Class | Transformers Generations Legacy
– Prototype Kampfer G Frame FA | Bandai Tamashii Nations | Gundam 0080: War In The Pocket
– Digimon Imperialdramon Shodo | Digimon Adventure 02 | Bandai Tamashii Nations
– Tekkaman ROBO-DOU | Threezero Tekkaman: The Space Knight
– MF-54B Black Microscope | Mech Fans Toys
New Instock Items!
– GX-99 Getter Robo Arc Soul of Chogokin | Bandai Tamashii Nations | Getter Robo
– HG16G Fenrir SGC Exclusive | Newage the Legendary Heroes
– CT-001W Volk Skifff White Version | Maas Toys
– 80 Brawn Deluxe Class | Transformers Studio Series | Transformers: Bumblebee
– BWM-05 Mighty Guardian | TransArt
– Unicorn Gundam Perfectibility (Destroy Mode) | Mobile Suit Gundam Unicorn Perfectibility | Gundam FW Gundam Converge: Core
– DA-87 Waruder Legion (Ripper/Dark Cathode Type) | Diaclone Reboot
– DA-89 Dia-Nauts Version 2.0 Set of 5 | Diaclone Reboot
– SS-04 Ratchet Premium Finish Deluxe Class | Transformers Studio Series | Transformers
– MP-53+ Senator Crosscut | Transformers Masterpiece
– EX15 Red Spider, EX16 Thundermaker and EX17 Sky Gull Set of 3 | Zeta Toys
– PS-15R Fraudo Regenesis | Mastermind Creations Ocular Max Assaultus Regenesis Combiner

________________________
Have you signed up for Source Points yet? Earn points with every purchase towards Freebies! Accumulated points and want to redeem them? Click the following link to enroll or redeem your points today!
Source Points – TF Source
________________________
________________________
Become a fan of TFSource today!


Why go to the store when you can go to the SOURCE!
________________________
You can also follow us on Twitter!