TFSource News – Fans Toys FT-52 Aussie, Threezero MDLX Megatron, Studio Series, Legacy and More!
This week at TFSource, check out new Transformers Legacy and Studio Series preorders. Also check out new instock items, like Fans Toys FT-52 Aussie and a spectacular looking Voltron, from Blitzway and 5Pro Studio!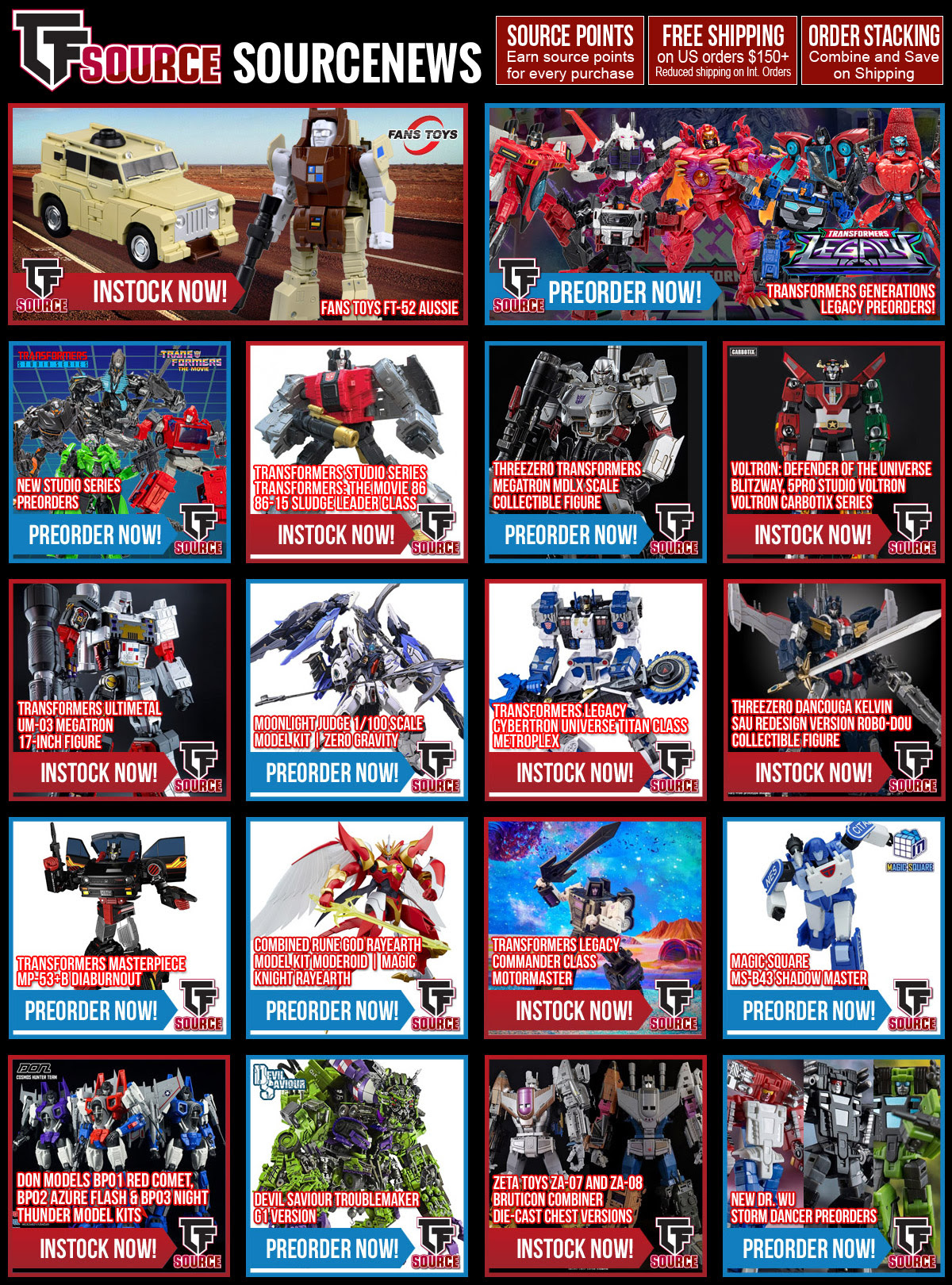 New Instock Items!
– Fans Toys FT-52 Aussie
– Transformers Legacy Commander Class Motormaster and Titan Cybertron Metroplex
– Voltron Carbotix Series | Voltron: Defender of the Universe | Blitzway, 5Pro Studio Voltron
– DST01-001 Slingshoot | Dream Star Toys
– MF-52 Pioneer | Mech Fans Toys
– BWM-05B Jungle Guardian | TransArt
– XM-01 Sharkticon | Xiaomo Studio
– Transformers Legacy Core Class G2 Universe Megatron and Optimus Prime
– Don Models Red Comet, Azure Flash and Night Thunder Model Kits
– UM-03 Megatron 17-inch Figure | Transformers Ultimetal
New Preorders!
– Megatron MDLX Scale Collectible Figure | Transformers | Threezero
– New Studio Series Preorders
– New Transformers Legacy Preorders
– Combined Rune God Rayearth Model Kit MODEROID | Magic Knight Rayearth | Good Smile Company
– Moonlight Judge 1/100 Scale Model Kit | Zero Gravity
– MP-53+B Diaburnout | Transformers Masterpiece
– Optimus Prime EOS R5 | Canon | Transformers Collaborative
– PX-04 Summanus Metallic Version | Planet X
– ARHAN Model Kit MODEROID | Expelled From Paradise | Good Smile Company
– Devil Saviour G1 Troublemaker
– MPM-10R Starscream Revenger Version | Transformers Masterpiece Movie Series
________________________
Have you signed up for Source Points yet? Earn points with every purchase towards Freebies! Accumulated points and want to redeem them? Click the following link to enroll or redeem your points today!
Source Points – TF Source
________________________
________________________
Become a fan of TFSource today!


Why go to the store when you can go to the SOURCE!
________________________
You can also follow us on Twitter!