Amazon is listing these 160-page youth books.
Out April 2.
QUOTE
A royal event has turned Twilight Sparkle's life upside down. To learn how to handle her new status, Twilight goes to Princess Cadance for some guidance. The princess shares her own story about how she came to rule the Crystal Empire and a magic spell that helped her follow her heart. Inspired by Princess Cadance, Twilight Sparkle sets off on a quest for the Crystal Heart Spell!
Out July 2.
QUOTE
Pinkie Pie has always been a bit different from her very serious family. When she plans a Ponyville "rock" concert to support the family business, Pinkie's family doesn't like the idea. They just want her to be serious, for once. This is a real problem! Read along as Pinkie gets a little help from her friends in this original and brand-new adventure!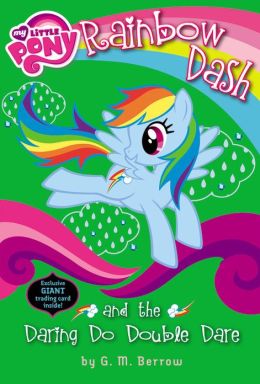 For January 7. 2014.
QUOTE
Rainbow Dash is a huge fan of the Daring Do book series, but after the newest book comes out, she's not alone! Suddenly, every pony in Ponyville is reading the books! To prove she's' the ultimate fan, Rainbow Dash decides to show her friends that she can be just as brave and "daring" as her hero. But Twilight Sparkle and Rainbow's other friends worry about how far she's willing to go. Just how daring should one pony be?
Oh, and there's an EqG novelization from the same author this October.
There will be activity pages, of course.
They will also be on the Kindle, which is better for people shy about their affiliation with MLP.
Edited by RC85747, 02 July 2013 - 04:16 AM.