Hey. Remember this crazy Dutch comic where Jetfire was leader of the Autobots?
Well, after putting out a call for information about the comic, a fan in Spain ("Un tal Iv?n" - @Ivanspeedy on Twitter) sent along a scanned copy of it to TFWiki's Twitter account! It is, naturally, entirely in Spanish.
http://obscuretf.com...Promocional.zip
Now, thanks to Spark (for translating) and ItsWalky (for re-lettering), we have the comic portion of the book in English! (There is also a catalog portion, which has been translated but not re-lettered as yet.)
Click the thumbnails to enlarge: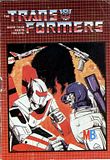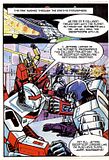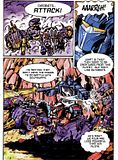 Ivanspeedy says the book was a promo given away in stores. It's a bizarre redo/mash-up of Marvel's TF #1 and #4, with Soundwave filling in for Shockwave (despite Shockwave being advertised in the back), and gives brief fictional appearances to Roadbuster, Whirl, and Diaclone Blitzwing(!). More exciting to me, though, is that the ads in the back show all four Deluxe Insecticons in their Beetras colors - except the unproduced Beetras Ransack is in DIFFERENT unproduced colors! (He's green, the one we've seen art of is brown.) The Mini Vehicle section also features a rare appearance by the "bearded Warpath" variant/error, also available to view
here
.
Thanks to "Miguelator 3" for the original scans, to Ivanspeedy for providing them, to Spark for translating and to ItsWalky for lettering and color-adjustment. Enjoy this bit of obscurity, everyone!
Edited by Monzo, 02 February 2013 - 01:58 PM.