Forgetting something "Gentlemen":
It is finally time to reveal a "little" project that myself and Fakebuster83 have
been working on for almost half a year now. This robot kit was designed to
help give your Thunderwing, Sky-Shadow, etc figures their smaller "inner
robot" form.
This mini-figure can stay attached to the original figures in both aero-space
fighter mode and robot mode. Or may be deployed as a companion drone
aircraft or robot figure to help in the mission at hand.
These figures are currently being fine-tuned and should be available for
ordering at the end of this coming March. I will post final pricing and ordering
details when all the variables have been resolved. Estimated price will be
$25-30 (+ shipping) per complete kit with packaging and instructions.
Without further ado, I present the Thunder Shadow Drone: TSD-Alpha: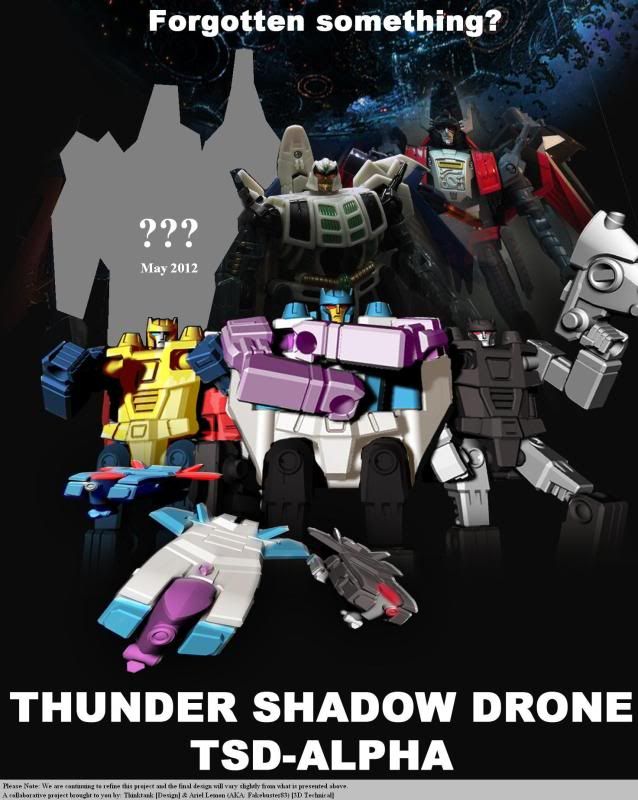 This is a collaborative project brought to you by:
Thinktank (Design) and Ariel Lemon (AKA: fakebuster83) (3D Technical)
NOTE: We are constantly working to improve the quality of our product.
The final design will likely vary slightly from the images presented.
Here are a series technical illustrations showing the kit's design and features: