So today, some work friends and I went to a dim sum restaurant in Chinatown for lunch. Afterwards, we wandered around the block in search of terrible toys (we'd recently discussed Spader-Man and Robertcop and the like). Didn't find anything hilarious, but I did make one surprising find: a complete set of GoBots to form Puzzler, all mint on sealed card. They were packaged in a poly bag together marked $59.99, but after a brief negotiation, I walked out with the set for $50 flat, no sales tax even.
I never liked GoBots much... I had a few as a kid (the blue Leader-1, Scooter, Scoops, the sub, the helicopter, the seaplane, the ambulance, a couple of others) and I liked that they were Matchbox-sized and partially metal, but the robot modes rarely looked good and the show was terrible. Once I got into collecting Transformers around 1999, naturally I investigated GoBots as well, and remembered Puzzler vaguely. I was impressed that he managed to beat Transformers to the punch of combining without any extra parts. I never really sought one out, but I'd occasionally see a crapped-up version at BotCon for way too much money and think, "hm, I should find one of those." Today, it worked out. So... worth the $50? Let's see...
PART I: MINT ON CARD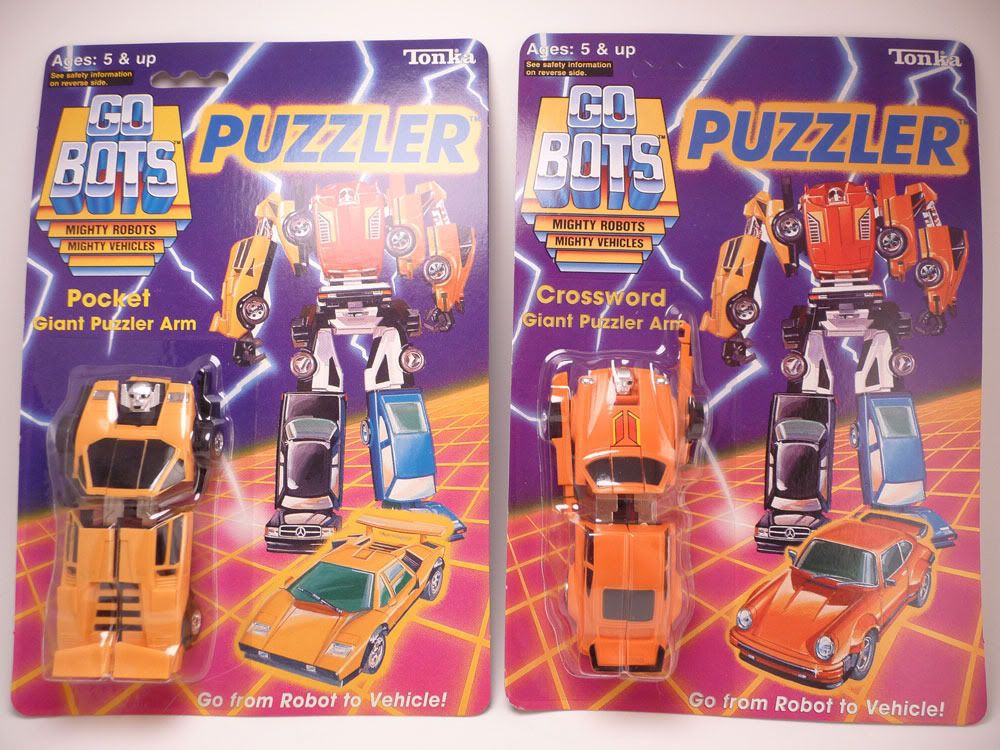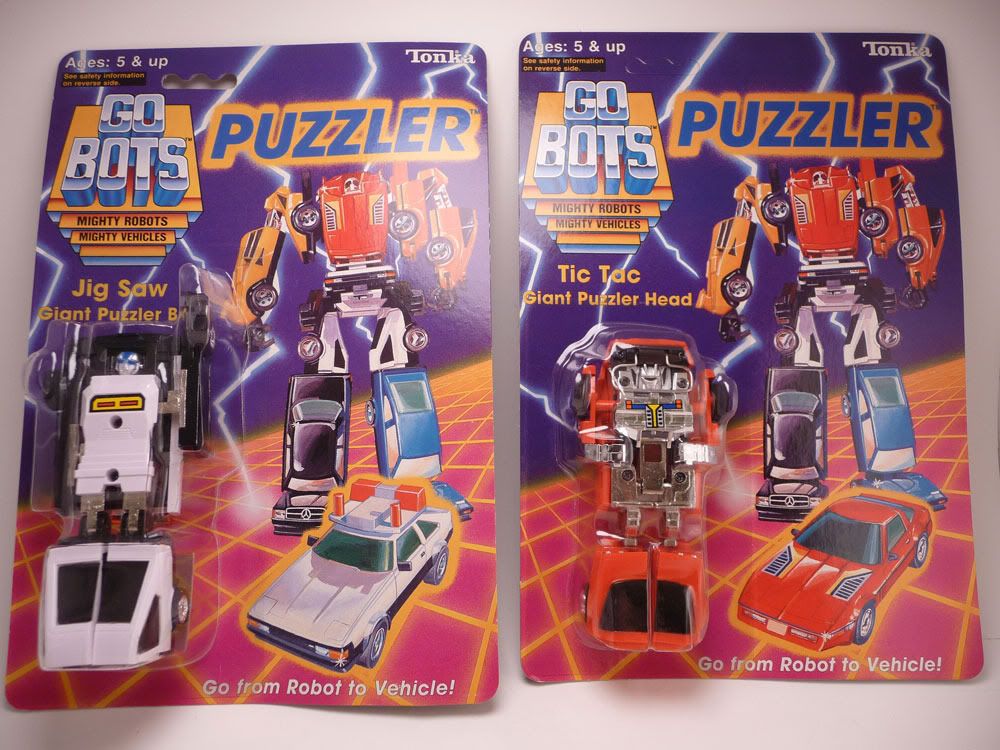 These must have been deadstock, discovered in some warehouse recently and distributed around Chinatown. The store owner said this was his "last set," implying he'd had more, and both this shop and another one had multiple mint-in-box Stax-es for $20 each (I didn't bite on those--robots should have heads, dammit). And as you can see, these cards were in nearly perfect shape, just a little warped from the years of storage. Three were unpunched! Hard to believe they're over 25 years old. Anyway, the packaging is nice. Unlike the carded Transformer combiner parts, these emphasize the combined mode more than the individuals. Each card has a large painted image and title of "PUZZLER," with a smaller image of the toy's alt-mode underneath. Plenty eye-catching and bright, and the art and title make it quite clear that these are part of a set. Especially nice is that under the individual name is "Giant Puzzler Leg" or similar. I like that, and it's definitely good for parents trying to figure out what to get their stupid kid for his stupid birthday. The back has simple but clear instructions on converting between the three modes, plus a cross-sell of all six components.
But there's also this: the packaging tells you nothing at all about who the hell these robots are. Are they here to help me? Should I be afraid of them? Not only is there no bio on the card, there's not even an indication of whether they're good or evil! And GoBots was supposed to be about good robots vs. bad robots! As much as I always say I'm all about nice-looking toys and don't care about the fiction, I recognize that part of Transformers' great success came from giving the toys personality and character to provide a play pattern for kids. That opportunity is totally missed here, and it's hard even for me not to miss it.
Seriously, was Puzzler a Guardian or a Renegade? I honestly don't know.
Next up, check out these shiny new toys broken free from their decades-long incardceration, in Part II: Vehicle Modes!