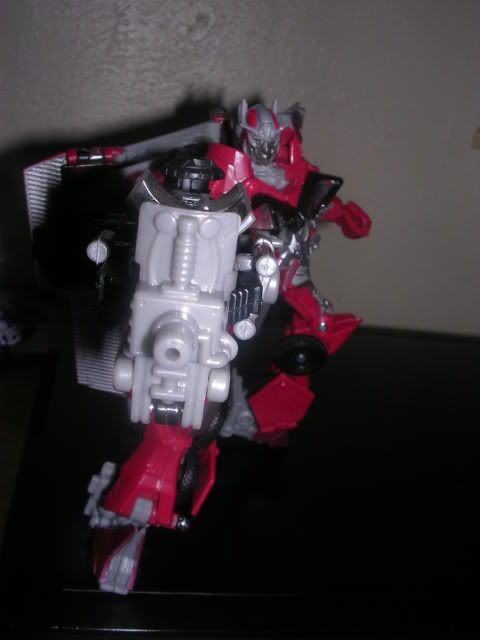 Click hotlinks to see more images!
Robot Mode
: I'll start here, because it be what he comes packaged in! Sentinel Prime is a very nice looking robot. I'm not entirely sure how accurate he is to the movie, as I've not seen it in months, but he's very nice looking. Articulation is good, with full shoulder and hip. Rotation at elbow and knee, both of which bend to 90 degrees. No wrist articulation, despite looking like there is, sadly. Neck turns, ankles hinge forward on a transformation joint. Headsculpt is good. I do wish some paint had gone onto his beard to differentiate it from his face, but that's a pretty tiny application. He comes across as rather old and noble, just like Optimus Prime expected!
Immensely noticeable in this mode is his kibble: Effectively all of it folds flat into what looks to my eye to be a
cape
. I'll comment a bit more on this later. He's painted pretty well, I think. I love the silver on his chest. I'm not sure I like the pure transparent plastic for his lightpiping. It gives him dead eyes even when they're glowing. Could be an intentional choice, given his role in the movie! I'm generally pleased with this mode. He wields his weapon nicely in either of its forms. Speaking of...
Mechtech Gimmick
: Sentinel Prime, like all Voyagers in the DOTM line except Ironhide, has a Mechtech weapon that locks into one of two modes. The base form is used as a water cannon is his alt mode. For robot mode, I personally consider it a machine gun or similar. It looks pretty good to my eye, a nice solid big gun. Pushing down and turning a black wheel on the back moves a chunk of the gun forward on struts, creating a large barrel. This is official a fusion cannon, and I see no reason to disagree. It certainly looks like a powerful gun! I see Sentinel as flipping the gun into this mode for a more powerful shot, video game style.
Transformation
: I don't intend to walk you through the transformation. Instead I will actually
review
it. I'll be honest. He's an utter
shellformer
. That cape I mentioned before? That's 90% of his alt mode, the rest being on his lower thighs and feet. Normally, I'd be really annoyed by this... But Sentinel's not a BW Neo or RID style shellformer. By that I mean he's not at all frustrating to transform. His limbs fold up readily and his shell actually fits around perfectly. One complaint--putting his front wheels into place for either mode always makes me feel like I'm going to break them. An a
word of warning
: Make sure his head's facing forward before you transforming the chest panel, or you may
damage
his crest!
Vehicle Mode
: I'm biased. I've wanted a full size airport firetruck TF since I was a kid. And Sentinel Prime delivers. Thanks to his shell transformation, the alt mode is mostly unmarred by the needs of transformation. It's very nicely detailed--I love the
rubbing-off Autobot logos
on the back. Really makes him look old and also fits into his role in the movie. Holds together quite well in my experience. I suppose I should mention that he has no painted hubcaps, but honestly? I don't care about those!
Water cannon's
oversized
, but I'm perfectly willing to sacrifice a bit of aesthetics for play features. I, for one, love using the mechtech gimmick in this mode. It turns him into an alt mode seen previously on Cybertron Prime:
Firepower Truck.

Overall
: I suck at number ratings, so I'm not even going to try. Should you buy this toy? I say yes! He looks great in both modes, and his transformation is shell-based but mostly painless (excepting the front wheels), unlike his Leader counterpart. He lacks the sword and shield of his other versions, but he has an awesome BFG. I'm very pleased with him!
[I'd appreciate feedback on my review style. Content I should add? Things I should do differently? I want to know!]
Edited by Esser-Z, 02 January 2012 - 02:38 PM.