I don't usually pick up the Titan Transformers magazine since it is reprints of comics I already own and original comics of Skids and Mudflap. But my attention was piqued when I was told that issue 8 finished off the reprinting of All Hail Megatron.
I thought this was strange since after 8 months they'd only reprinted up to issue 5. It turns out that Titan have completely cut, mangled and CHANGED the plot of AHM to bring it to a screeching halt in just 24 pages. The magazine's editorial promises us an "epic, power-punching ending [as it] rushes head long towards its stunning conclusion".
So uh, what did they DO? Being horribly anal, I have documented the changes below!
Page 1-2 (AHM 6 p 1-2)
Kup and Jazz have a chinwag
Page 3-4 (AHM 6 p 3-4)
Starscream and Megatron have a chinwag
(We now miss out the fight between Skywarp and Bombshell)
page 5-7 (AHM 6 p10-12)
Kup and Jazz continue to chinwag
(We miss the conversation between Ironhide and Roadbuster, the sighting of the Swarm and Perceptor being scary)
Page 8-10 (AHM 6 p18-20)
Megatron and Starscream keep arguing
(We miss the decision to bomb New York and the insecticon creation flashback)
Page 11-17 (AHM 7 p5-11)
Jazz's flashback up until the splash of Megatron taking the Matrix from Prime
(We miss Sideswipe talking to Sunstreaker)
Page 18-20 (AHM 7 p15-17)
Jazz continues his flashback telling of how Prime sacrificed himself to save everyone else.
(We miss Ironhide fighting Mirage. We then miss ALL of issue 8, including Sunstreaker's death! From issue 9 we then miss the humans on Earth chatting to Spike)
Page 21 (AHM 9 p9 (panels 4&7) p15 (panel 2) p 16 (panels 4-6)
In an
astonishingly
bad piece of editing, Titan have MERGED some of AHMs pages, so that Ratchet enters, tells everyone Prime is about to die, Sideswipe gets angry (with changed dialogue, so that references to Sunstreaker are changed to Prime). Sideswipe now seems to be angry that Prime is definately dead, and makes it sound like Prime committed suicide due to the baffling name changes.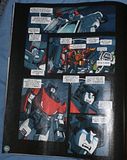 Terrible photo of the terrible new page (I couldn't get it without the lens flare, sorry)
page 22-24 (AHM 9 19-21)
Sideswipe's page of monologuing. Hilariously he talks about Sunstreaker's death here, so we have to assume he died off-panel somewhere.
And then the double-page splash of Optimus Prime returning. Ratchet's diagnosis 2 pages prior seemed a bit pessimistic then.
Then it says THE END!
Oh dear. Oh dear. Titan. What are you playing at? I can kinda see that they might have wanted to rush through the story, or perhaps relaunch the second half as a 'new' story, but then a little box tells us that if we want to read the rest, we need to go to Forbidden Planet and buy the trades.
I used to like Titan as a company, but this is a flabbergastingly bad piece of hack work. The WORST part is, that the Transformers mag, as one sold in supermarkets and newsagents, gets a ridiculously high distribution rate, in the tens of thousands. This is going to be how most people will read this tale!
But hey, free disk launcher!
Edited by Blueshift, 31 December 2009 - 01:59 PM.