@

Robowang

:

(21 September 2017 - 10:06 PM)

Ok, I can't find the "Savage on a Ravage" pic that soneone pisted. Can anyone link me to it?

@

wonko the sane?

:

(21 September 2017 - 12:47 PM)

I'm also sure you don't sparkle like a disco ball, otherwise someone woulda run you over by now.

@

Dracula

:

(21 September 2017 - 12:40 PM)

anyway I don't die in sunlight, I just get tired.

@

Dracula

:

(21 September 2017 - 12:40 PM)

correct

@

wonko the sane?

:

(21 September 2017 - 11:46 AM)

I'm pretty sure most vampires would cause a gremlin infestation just for the giggles.

@

Noideaforaname

:

(21 September 2017 - 11:42 AM)

Hmm, a vampire would have a hell of a hard time getting rid of a Gremlin infestation, wouldn't he?

@

OrionPax44

:

(21 September 2017 - 11:13 AM)

Well then there's yellowing but isn't that all of them. I like to leave all my TF's in a hot car all day long to let all their joints turn to jelly.

@

Telly

:

(21 September 2017 - 11:12 AM)

what about sunlight??

@

TheMightyMol...

:

(21 September 2017 - 10:50 AM)

KAIJU NOT FOR SALE

@

Dracula

:

(21 September 2017 - 10:49 AM)

don't get any water on your trypticon, and don't feed him after midnight.

@

TheMightyMol...

:

(21 September 2017 - 10:42 AM)

I've had mine for two weeks with no problems. Just don't be a hamfist with it.

@

Paladin

:

(21 September 2017 - 08:36 AM)

assuming they survive transport...

@

Telly

:

(21 September 2017 - 07:37 AM)

quiet you!

@

Paladin

:

(21 September 2017 - 06:46 AM)

and the hips should break by Wednesday/.

@

Telly

:

(20 September 2017 - 09:00 PM)

just ordered tr trypticon. should have it monday

@

OrionPax44

:

(20 September 2017 - 04:57 PM)

@Robowang I have one somewhere and I can send it to you. Don't worry about it. Just let me find it

@

Bass X0

:

(20 September 2017 - 04:43 PM)

Sometime last week, I purchased Hasbro Windblade online then a day or two later, Takara Windblade was announced for only £4.99 more making me instantly regret buying Hasbro's Windblade. Guess I'll be giving Hasbro Windblade to my nephew for Christmas then.

@

Shrug

:

(20 September 2017 - 02:24 PM)

That whole flat-rate shipping thing makes the math easy.

@

Shrug

:

(20 September 2017 - 02:23 PM)

4 bucks

@

SHIELD Agent 47

:

(20 September 2017 - 02:15 PM)

Hmm. How much is shipping from BBTS?

@

NightViper

:

(20 September 2017 - 02:09 PM)

Set of the four is still $22 at BBTS

@

SHIELD Agent 47

:

(20 September 2017 - 02:00 PM)

Ramhorn is currently available from a third party seller via Amazon for $27.

@

Robowang

:

(20 September 2017 - 11:47 AM)

Anybody have the TR PM OP trading card they don't want? I lost mine! Will pay you for it.

@

PlutoniumBoss

:

(20 September 2017 - 11:35 AM)

If you don't need her I'll take her off ya.

@

BlackMax

:

(20 September 2017 - 10:04 AM)

When I get that power-batteryOptimus I swear I will carry it everywhere. It'll be like having a useful tool AND being six years old again all at once.

@

Robowang

:

(20 September 2017 - 09:58 AM)

I guess he's gone now. Oh well.

@

Robowang

:

(20 September 2017 - 09:56 AM)

I saw Ramhorn all over ebay for $16 a week ago or so.

@

Shrug

:

(20 September 2017 - 09:02 AM)

Just ordered Arcee.  I don't need her.  But she's pink.  And a robot.  A combination I love.

@

Darknova4life

:

(20 September 2017 - 08:57 AM)

@ Robowang, Where is TR Ramhorn available for $16?

@

Shrug

:

(20 September 2017 - 07:31 AM)

Besides spotty, this is the first time I've consistently seen reships of older waves months after the next 2/3 waves show up.

@

wonko the sane?

:

(20 September 2017 - 07:29 AM)

No kidding spotty. Haven't seen of the recent waves, and I desperately want a seaspray for my brother.

@

Robowang

:

(20 September 2017 - 07:05 AM)

Distribution is so spotty these days that I've given in and just started ordering everything. I'm probably going to wind up with a $16 Ramhorn, too.

@

MidnightFox

:

(19 September 2017 - 08:51 PM)

So they've been out at regular retail hit and miss for awhile.

@

MidnightFox

:

(19 September 2017 - 08:50 PM)

I picked up Misfire at a Target in Mississippi in mid-August.

@

Shrug

:

(19 September 2017 - 05:09 PM)

I think so. I checked his post history just now and he mentions buying something in North Carolina

@

SHIELD Agent 47

:

(19 September 2017 - 05:04 PM)

A U.S. Walmart?

@

Shrug

:

(19 September 2017 - 04:41 PM)

Saw someone found Misfire's wave at Walmart on Reddit. First normal retail sighting I've heard. I'm more hopeful now.

@

SHIELD Agent 47

:

(19 September 2017 - 04:04 PM)

I'm praying I will be able to find Misfire and Slugslinger at brick and mortar somehow.

@

Xellos

:

(19 September 2017 - 03:22 PM)

Getting the set of 3, myself. Figure I'll keep Hot Rod in package (still my fave character), and give Kup to my nephew to help expand his current fascination with Transformers.

@

Telly

:

(19 September 2017 - 11:56 AM)

i got slugslinger for $30 from amazon as well. i can imagine thatll be the standard price at most places since theyll jack up the price to cover having all those kup and hot rods sitting in their stores

@

Robowang

:

(19 September 2017 - 08:16 AM)

Yes, I bought the $30 one on Amazon. I'd rather just pay the $30 than pay $60 and be stuck with an extra Hot Rod and Kup I can't sell.

@

Robowang

:

(19 September 2017 - 07:34 AM)

Slugslinger, Misfire, and Triggerhappy look amazing together. Best of Titans Return, as far as I'm concerned.

@

Noideaforaname

:

(18 September 2017 - 11:32 PM)

gads, why is this site so bad at loading at times?

@

Steevy Maximus

:

(16 September 2017 - 08:29 PM)

Thank you Hasbro for having never reissued the 2011 City Strike Destro figure...already at $32 with a week left.

@

SHIELD Agent 47

:

(16 September 2017 - 07:47 PM)

Asking someone which year of "university" they're in seems so much more sophisticated than asking which year of "college" they're in.

@

wonko the sane?

:

(15 September 2017 - 09:04 PM)

Hooray! It only took 8 years, but laika finally learned to NOT play with the striped kitty!

@

Bass X0

:

(15 September 2017 - 04:38 PM)

It was "Take Your Laserbeak To Work Day".... well, for me it was anyway. I was getting bored of being on hold when I made calls, so wanted something to relieve the boredom.

@

TheMightyMol...

:

(15 September 2017 - 04:25 PM)

Can you hear me now? *CRACK*

@

MEDdMI

:

(15 September 2017 - 04:25 PM)

Pshaw, internet! Back in my day, we wrote notes, wrapped them around rocks, and threw them at each other's heads!

@

Benbot

:

(15 September 2017 - 03:32 PM)

That's why I used Napster at work
Instructions scan request
Started by
newsy891
,
Dec 07 2009 12:57 PM
Posted 07 December 2009 - 12:57 PM
Would someone be willing to scan and post the instructions for ROTF Arcee?
Thanks in advance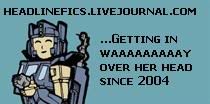 More fanfic at Offscreen Fics
- random archived bits of Transformers fic, with a side of Doctor Who
Sig and avatar art by Shum

RIP, Kevin "SolFire" Russell.
There is help, there is hope. Call 1-800-273-TALK (8255) in the US, or e-mail jo (at) samaritans (dot) org worldwide.
---
---