I was in Poundland the other day (basically a One Dollar Store for you Yanks) when a knockoff of a Cybertron Legends Thundercracker caught my eye. Crafted from green plastic and with minimal yellow and grey paint apps, it looked like a very cheap version of my fancharacter
Fulcrum
. What the hell, I thought, grabbing it off the rack. It's only one quid.
So I've started painting it.
Here he is after the first couple of coats of Tamya spray (Olive Drab 2). While he's already green, this base coat will help any further paint apps stick. At this stage you can still see bits of his original yellow paint apps showing through. Don't worry, I dealt to those.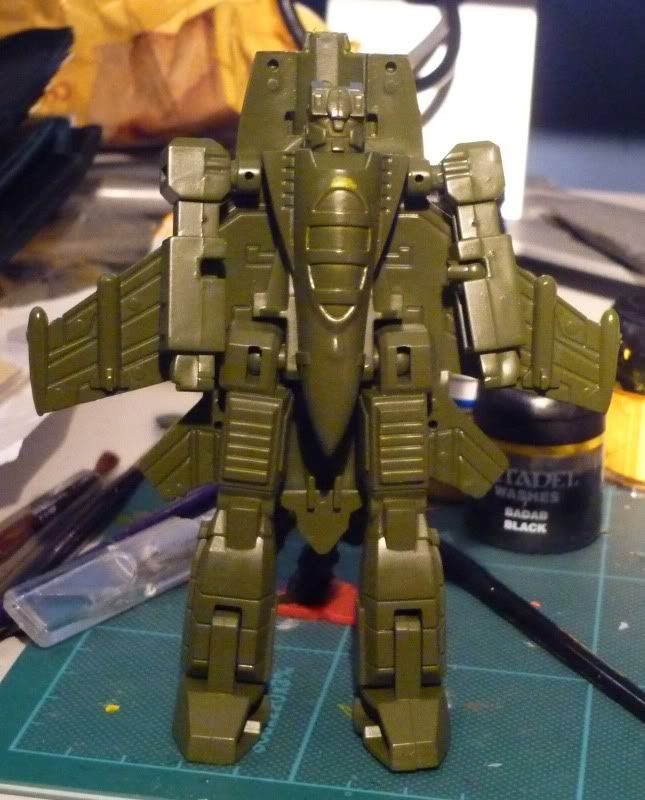 ...and here's the jet mode after another couple of coats of spray and some detailing work. I'm using all Citadel paints. The green has been given a Badab Black ink wash to bring out the lines. The grey is Codex Grey, another black ink wash, then the panels were lined with Fotress Grey and corrected with a bit more Codex. The yellow is an Iyaden Darksun basecoat, and the nosecone is straight Chaos black.
Next step is to give the green the same treatment as the grey, lining it with Camo green then corrected with Catachan Green. The engines will be picked out in Boltgun Metal, drybrushed with Mithril Silver, given a black ink wash, then some Tin Bitz applied to represent scorching. Finally he cockpit will be painted with a reflective yellow scheme.
Then it's on to the robot mode!
Edited by Fulcrum, 11 October 2009 - 04:20 PM.