I was watching the DVD on Saturday in my apartment with a few friends, and we thought we heard a knock at the door. I got up and looked through the peep hole and no one was there. I sat down and continued to watch the movie. About two minutes later we heard a banging at the door. So we paused the movie and all went to the door opened it up and it was the township Police Department. They said "Sir, is everything alright?" To which i replied "Yes? Why?" The Officer said "We've received numerous calls reporting an explosion from this residence"<--- (I swear thats what he said!!) I said "your kidding, right?!" ....... "No sir this is not a joke" ........ "Well, were just here watching a movie"........... "Ok sir, im sorry but im going to have to write you a ticket for violating the local noise ordinance." (It was after 10:00 pm and we had the surround sound full blast, so i admit i was being an jerk having it that loud that late)..... I said "WHAT! im getting a ticket for watching a movie!?!"...... The officer replied "Yes being that we had multiple calls about this and you were violating noise ordinances we have to give you this ticket" I turned to my friend and said "Great googley moogley more money ive got to spend on Transformers!"....... And this is when it gets awesome! The officer said "Oh you guys are watching Transformers, huh?"..... My reply, "Yeah, why?" Then the Officer pulled up his shirt sleeve to reveal a tattoo of Barricades police shield (you know the one with the decepticon logo in it) I said "oh man thats sweet!" Then he said "I tell you what, just turn it down and we'll forget about the fine." I said "Of course! Thank you!" and then he left. So, theres my story lets hear all of yours. Ive got one more quick one: A few years back i was driving at like 2am (i drive an 02 neon with a decepticon logo on the hood)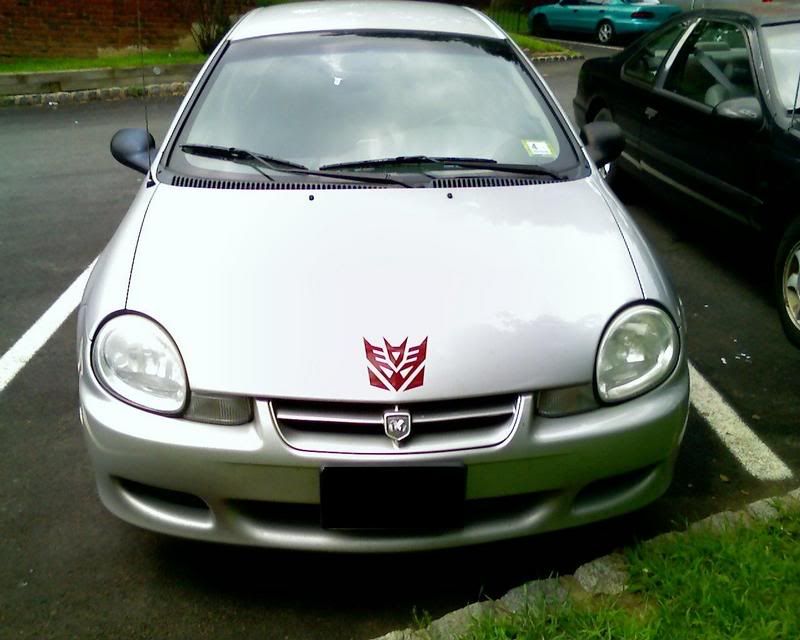 there was litteraly no one on the road. i was stoped at a light looked in the rear view and saw a set of headlights coming in the other lane. as it got closer i noticed it was another silver neon and they had an autobot logo on their hood. i honked my horn to try to get the drivers attention but i guess they thought i was just some sort of nut and ignored me. they sped off never to be seen. about two weeks later i went to the local toys r us and saw the same car in the parking lot. i went into the store did my shopping came out to the parking lot and the other car was gone but there was a note on my car saying "Sweet car" with a phone number. And to make a long story longer he and i have been good friends since.
QUOTE
Edited by Human_Error, 24 October 2007 - 11:39 AM.