Most of my collection, due to matters of taste with the significant other, is relegated to the bedroom and walk-in closet (which has some really awesome built-in shoe shelves that are the perfect size for most Ultra-sized figures and below). I have two large bookcases, one medium etagere, a TV armoire with a small MDF shelf from Target on top, a desk, and one of those durable plastic shelves you get for 15 bucks from Target or Wal-Mart. Additionally, I have a curio shelf in the closet, plus the aforementioned built in, and a pair of convenient six foot panel resting over the parallel hanger rails; one's at about seven feet, the other about three (no idea why there's a rail that low, honestly).
Since it's the most current main line, we'll start with the Cybertron Bookcase, which is on the right-hand wall of my bedroom, between the door to the hallway and the pocket door leading into the bathroom.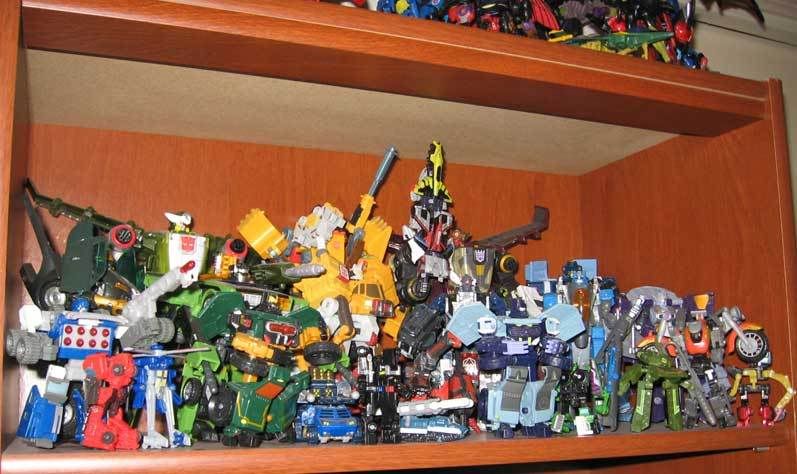 Earth Autobots and Decepticons. Skyshadow is holding the "Oblivion" Saber because that's why Jetfire is under cover-- to retrieve the rogue Mini-Cons. I've incorporated the Classics Mini-Cons back into the UT, where they originated. They're the only Mini-Cons I've actually got on display at the moment, since a good deal of them are in a plastic bag left over from when I rearranged shelves the day before yesterday.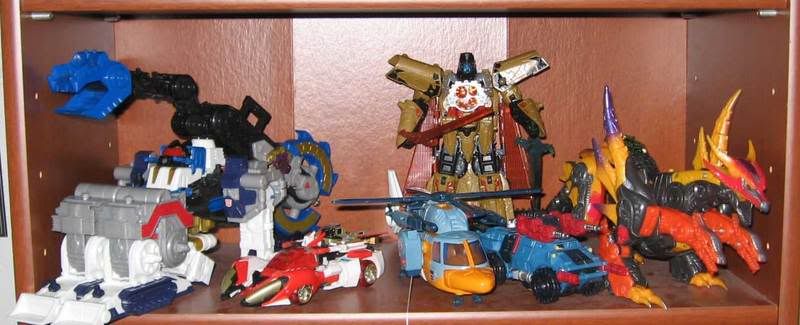 Now we have Cybertron's leader (gold key) figures, plus Galaxy Force Vector Prime and Cybertron Defense Hot Shot. CDHS is there because he becomes leader of Velocitron at the end of the series. Hanging from Evac's winch is the Omega Lock.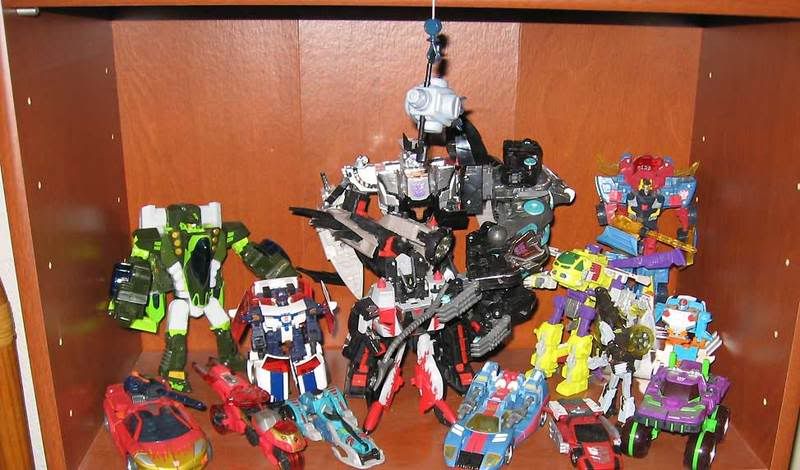 Speed Planet, plus the slightly incongruous Galvatron and Nemesis Breaker. He's only there because I ran out of room on Giant Planet's shelf.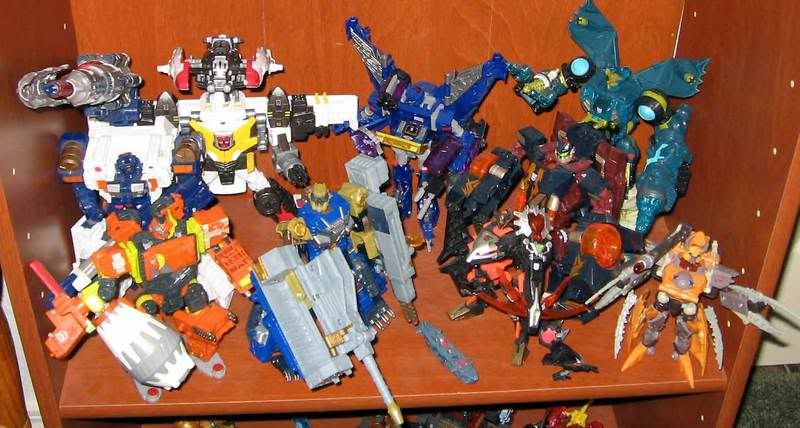 Because it's Giant Planet. The smallest figures on this shelf are Sideways and Unicron. It's a Planet X/Giant Planet showdown, plus Wing Saber.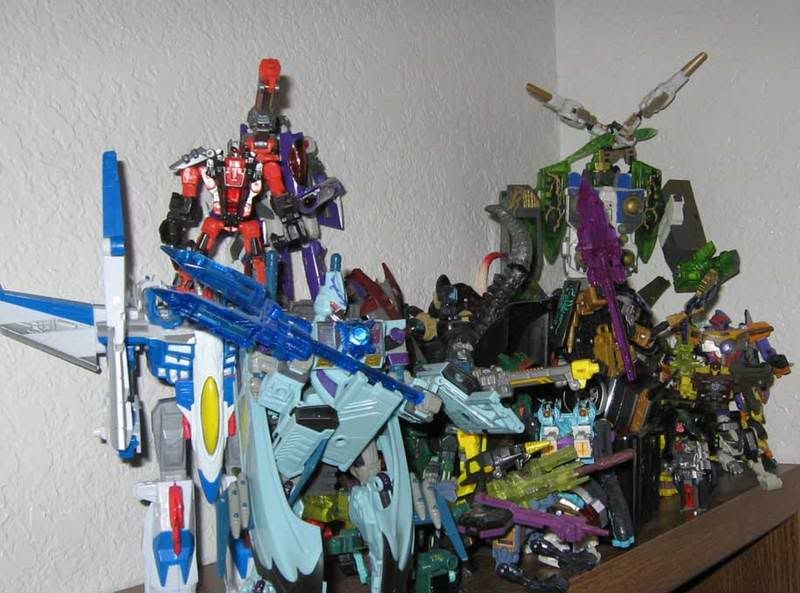 YARR! I love Pirates so hugging much, and I was just thrilled to find out that Cannonball is one. Here's his crew: He's equal opportunity Unicron Trilogy, with the exception of Nemesis Prime. Anyone who's read my fanfic will understand a lot of the choices here. You can't tell from this shot, but I've got Ultimate Battle Classics Megatron there (Gutcruncher), Cybertron Voyager Starscream (Thrust), Bert and Ernie (yellow and red Scrapmetals), Energon Slugslinger (Fangrel), and one of each Terrorcon except for Insecticon.
Here's a clearer shot: