Chapter 7: The Go-Bots/Gobots (1995), part 2
In Europe, the Go-Bots were available in the usual three different packaging variants, all of them adhering to the general packaging design used in Europe at the time, retaining the
Generation 2
title and with the names of the individual characters only printed on the back of the cards. Now as I mentioned before, there was some bizarre naming confusion going on that resulted from Hasbro's repeated attempts at securing the name "Gobots" they had acquired when they bought out their former rival Tonka. We have the US Color Changer "Gobots" (who was never officially available in Europe), whereas the 1995 assortment's name is spelled "Go-Bots"... but in Europe, the assortment's name is
also
spelled "Gobots" as one word, similar to what happened with the "Lasercycles", the "Autorollers" (which I covered in chapters 4 and 6, respectively) and the "Powermasters" (which I will cover in chapter 10)! Here are Firecracker, Blowout, Gearhead, Motormouth, Double Clutch and High Beam in English/Spanish/Portuguese packaging: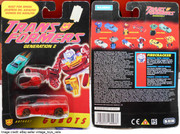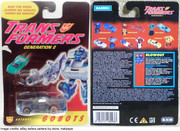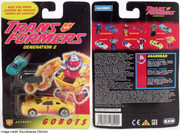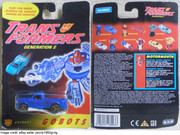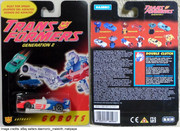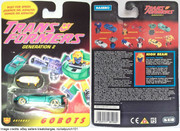 And here they are in French/Dutch/German packaging. Unfortunately I couldn't find photos of Gearhead in this packaging version, and although I
did
manage to find a photo of the back of Firecracker's packaging, that one will see use further down below for reasons that will become obvious later.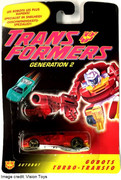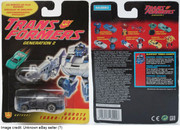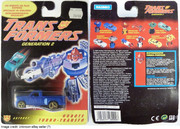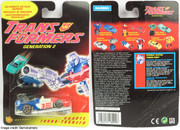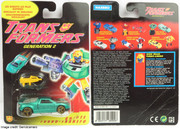 For the French-speaking markets, the assortment was given the additional name "Turbo-Transfo", and the characters were all given odd, rather technical alternate French names as well, which all differ from the
Canadian
French names listed above: Firecracker became "Turbo-Diablo" (because his alternate mode is a Lamborghini Diablo), Blowout became "Turbo-Comete" ("turbo-comet"; a slight misspelling, as the French word "comète" should actually be spelled with a grave accent above the first "e"), Gearhead became "Turbo-Stockcar", Motormouth became "Turbo-Porteur" ("turbo-porter"), High Beam became "Turbo-Libero" ("libero" being a word of Italian origin that refers to someone who is "free"; in both French and German, it's a well-known term for special positions in two different sports games, namely a volleyball libero and a "sweeper" in the game of football aka "soccer"), and Double Clutch became "Turbo-Indy".
And lastly, here are the six in Italian packaging complete with "GiG" branding: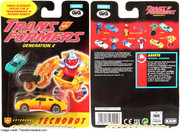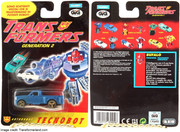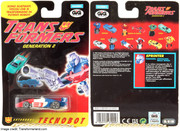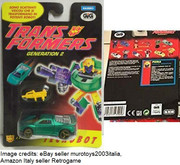 For the Italian market, the assortment name was changed to "Tecnobot" (no plural-"s" because of Italian grammar rules)... which was
also
the Italian name for the
Generation 1
Technobots! And that's not the only name reuse for the Italian figures: Firecracker became "Saetta di Fuoco" ("Arrow of Fire"), Blowout became "Leon", Gearhead became "Ariete" ("Aries"), Motormouth became "Bufalo" ("buffalo"), Double Clutch became "Sprinter", and High Beam became "Puma"... which was
also
the Italian name of
Generation 1
Tracks, at least the 1991 European-only Action Master figure.
Continued in part 3!Acknowledgements:
Edited by Nevermore, 31 July 2019 - 04:56 AM.