Hey Masters Of The Universe, Thundercats, & Battle Beasts fans, a brand new Kickstarter for the 2016 RISE OF THE BEASTS Series 2 line of action figures  is here!
https://www.kickstar...beasts-series-2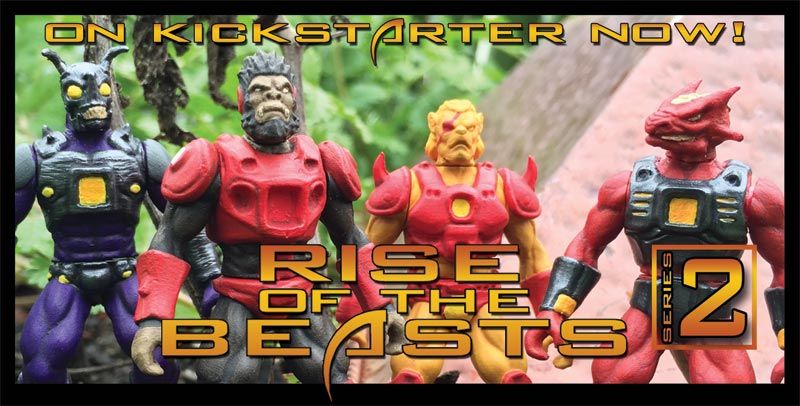 This terrific, inexpensive, fun, and nostalgic filled line (that is an amalgam of the 80's lines mentioned above) is back for a 2nd series featuring 4 NEW SCULPTED figures and a WEAPONS PACK of 9 Weapons that are fully compatible with Glyos and other 60MM retail figures (Like Avengers: Age Of Ultron or Guardians Of The Galaxy!!)

As a Toy fan myself I can tell you that there is a lot to enjoy about ROTB!!  Creators Jon Karis and Glenn White have helped form a new line filled with endless creative characters and story line possibilities!  I have been fortunate enough to have contact with both of these talented individuals and want to share in their passion for this new and innovative line of figures. The high quality PVC production figures are a 60mm scale and work with all Glyos compatible figures (created by Onell Design), as they also contain the Glyos peg & socket system. The figures have 4-5 points of swivel articulation at the pegs, & have hands that can hold most 3mm weapons.   There is a full character roster, & as part of the creative team, I can tell you that you are seeing just the tip of the iceberg with Series 2 of what can be achieved!!

If you are interested in RISE OF THE BEASTS be sure to pick up the 1st 2 figures offered already in both Painted & Unpainted options of the Rhinoceros and Scorpion available now from "Little Rubber Guys.Store" and help support this great new line of figures!  There is also a cool retro style mail-away incentive batch of figures on the store site to entice you to army build with this terrific line!  Take the plunge and get your collecting started as I think you will love this new line as much as I do!

Check out all of the details on RISE OF THE BEASTS Series 2 in the Kickstarter link above!!
Edited by Hot Rod, 21 January 2016 - 11:19 PM.