So Marvel is going to be spilling the beans on their upcoming, post-Secret Wars relaunch in an "All-New, All-Different Marvel Previews" print magazine set to arrive in comic shops on July 1, but in the meantime they've been releasing info and promos.  The biggest thing they've emphasized is that it is not a reboot.
So far they've put out some images of prominent characters from the relaunch  The first is fairly predictable, and seems to be building off the pre-Secret Wars status quo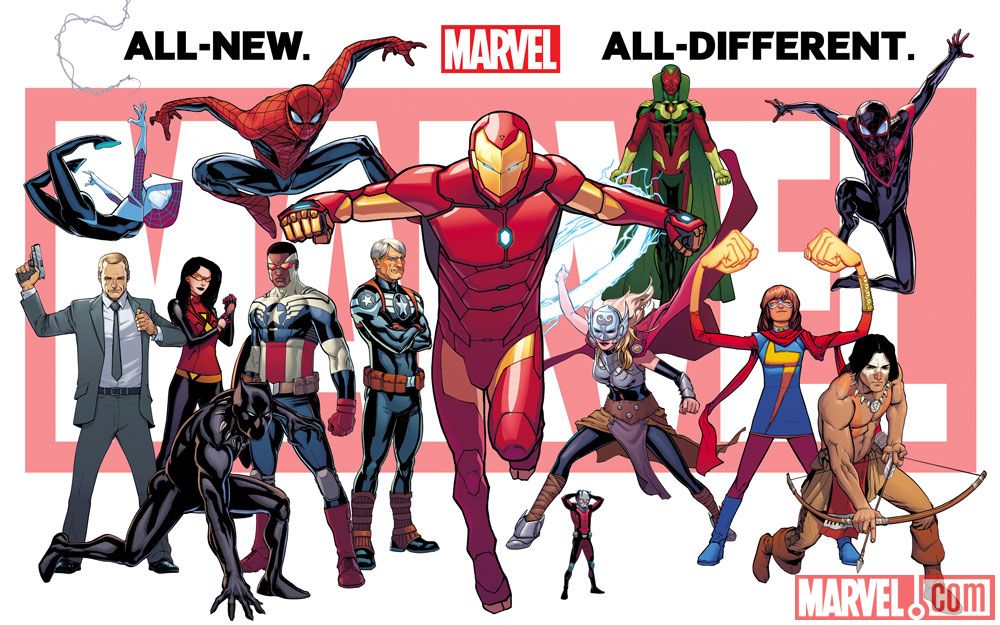 (Left to Right: Spider-Gwen, Spider-Man, Vision, Ultimate Spider-Man, Coulson, Spider-Woman, Black Panther, Captain America (Sam Wilson), Steve Rogers (Still Old), Iron Man, new Thor, Ant-Man, Ms. Marvel and Red Wolf.)
The Second is a LOT more interesting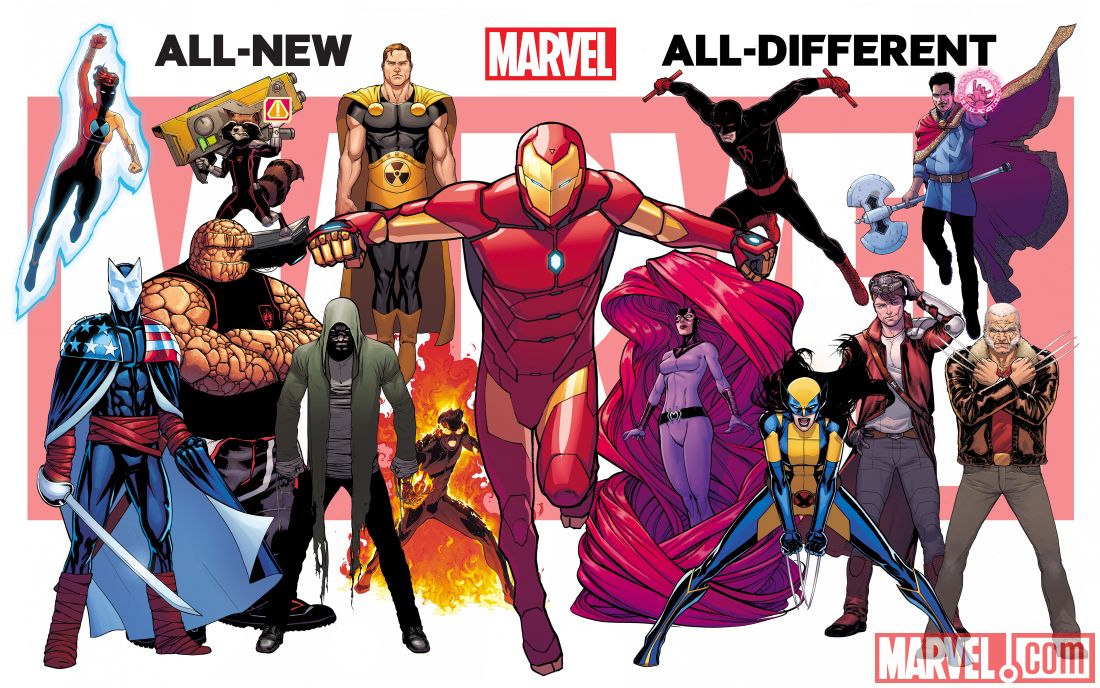 (Left to Right: Dr. Sprectrum (Last surviving member of the Justice League analog known as the Great Society), Rocket Raccoon, Hyperion (likely the Hyperion from Hickman's Avengers run), Daredevil, Dr. Strange (Battle Axe!!), Citizen V (Most known for being Baron Zemo's secret identity when he created the Thunderbolts), the Thing (sporting Guardians of the Galaxy duds), Karnak (of the Inhumans; Not Doom), Inferno (from the recent Inhumans ongoing), Iron Man again, Medusa, Wolverine (X-23), Star-Lord and Old Man Logan.
Also they recently spilled the beans about the new Invincible Iron Man; it'll be written by Bendis and drawn by Marquez, and the person taking up the armor will be
More updates to come, including a new Hulk and more about the mutants.
Edited by Undead Scottsman, 06 June 2015 - 07:34 PM.