TFSource News – NA Mista, PX Coeus, MS Doomsday, DX9 G2 Montana, LT Lemon Prime, Volcanicus & More!
We have a fresh newsletter from site sponsor TFSource! Continue reading to see what's new and in stock this week!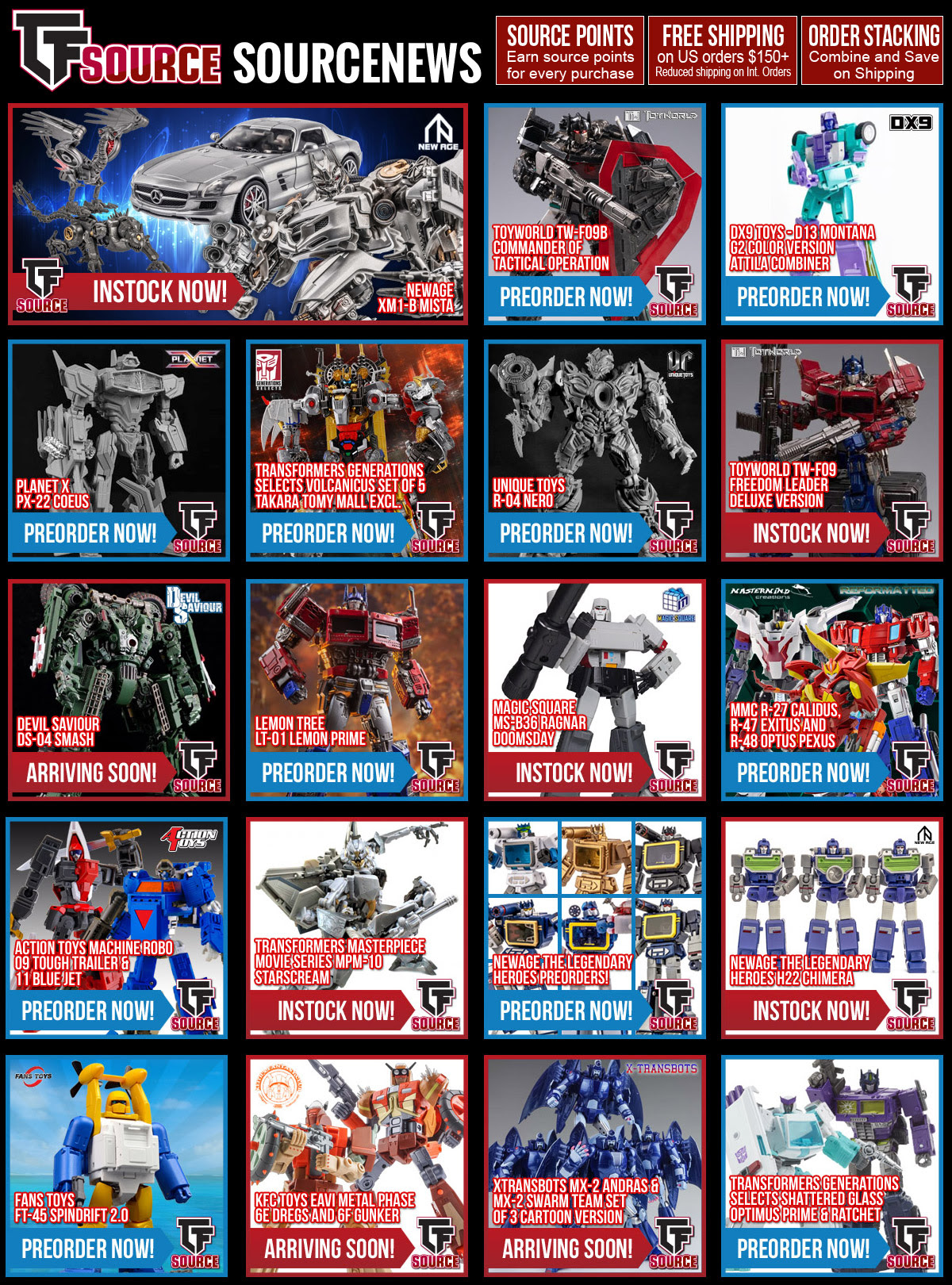 New Instock Items!
– XM1-B Mista with Hound and Laser Bird | Newage Movie Series
– Newage the Legendary Heroes H22 Chimera
– Toyworld TW-F09 Freedom Leader | Deluxe Version
– MS-B36 Ragnar Doomsday | Magic Square
– DX9 Toys D08 Gewalt
– Transformers Studio Series 67 Voyager Skipjack
– Transformers Masterpiece Movie Series MPM-10 Starscream
– Mastermind Creations – R-26 Malum Malitia – Set of 3
– Transformers Bumblebee DLX Scale Collectible Series Optimus Prime
– Iron Factory IF-EX43 Primal Commander
– Transformers Masterpiece MP-49 Black Convoy
– Soul Of Chogokin GX-59R Daltanious

New Preorders!
– Planet X PX-22 Coeus
– LT-01 Lemon Prime | Lemon Tree
– DX9 Toys Attila – D13 Montana G2 Color Version
– Toyworld TW-F09B Commander of Tactical Operations
– Transformers War for Cybertron Series-Inspired Netflix Editions: Optimus Prime, Wheeljack and Red Alert
– Transformers Generations Selects Volcanicus Set of 5 | Takara Tomy Mall Exclusive
– Action Toys Tough Trailer & Blue Jet
– Transformers Generations Selects Shattered Glass Optimus Prime and Ratchet Set of 2
– R-04 Nero | Unique Toys
– Mastermind Creations Reformatted – R-47 Exitus, R-48 Optus Pexus and R-27 Calidus
– Newage The Legendary Heroes
– Fans Toys FT-45 Spindrift 2.0

Arriving Soon!
– Devil Saviour DS-04 Smash
– X-Transbots MasterX MX-2 Swarm Team Set of 3 Cartoon Version
– X-Transbots MasterX MX-2 Andras Cartoon Version
– KFC Toys EAVI Metal Phase 6E Dregs
– KFC Toys EAVI Metal Phase 6F Gunker

---
Have you signed up for Source Points yet?
Earn points with every purchase towards Freebies! Accumulated points and want to redeem them? Click the following link to enroll or redeem your points today!
Source Points – TF Source
---
---
Become a fan of TFSource today!

Why go to the store when you can go to the SOURCE!
---
You can also follow us on Twitter!