IDW Transformers Comics Solicitations For February 2016
Thanks to the people over at IDW we now have the Transformers comics solicitations for February 2016! You can view them all (along with their covers) below the break!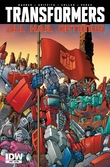 TRANSFORMERS #50
(W) John Barber (A) Andrew Griffith, Casey W. Coller (CA) Andrew Griffith
ALL HAIL OPTIMUS-PART 1! Backed by an army of zealous followers, OPTIMUS PRIME declares Earth to be a part of CYBERTRON'S Council of Worlds-and the DECEPTICONS and the people of Earth don't won't take it laying down! The story starts here, but the repercussions will last forever.
In Shops: 2/10/2016
SRP: $7.99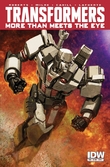 TRANSFORMERS MORE THAN MEETS EYE #50
(W) James Roberts (A) Alex Milne, Brendan Cahill (CA) Andrew Griffith
THE DYING OF THE LIGHT-PART 1! Since joining the Lost Light, MEGATRON has rejected everything that once made him the most feared and hated Cybertronian of all time. But penitence has a price, and before the ex-Decepticon can find true redemption he must first confront his darkest legacy-the Decepticon Justice Division.
In Shops: 2/17/2016
SRP: $7.99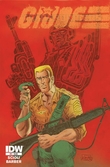 TRANSFORMERS VS GI JOE #11
(W) John Barber, Tom Scioli (A/CA) Tom Scioli
ESCAPE FROM PRIMUS! With Earth no more, the G.I. JOE team battles to make CYBERTRON their new home-but MEGATRON has something to say about that. Hint: it's "no, I'm not going to let you do that." Plus: the secret history of DUKE!
In Shops: 2/3/2016
SRP: $3.99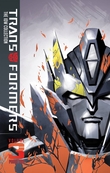 TRANSFORMERS IDW COLL PHASE 2 HC VOL 03
(W) John Barber & Various (A) Alex Milne & Various (CA) Marcelo Matere
The Lost Light finally reaches the Crystal City, while Orion Pax follows a rogue group of Decepticons. Meanwhile, back on Cybertron, violence breaks out in the heart of the city and Prowl looks for someone to blame! Collects More Than Meets The Eye #9-13 and the 2012 Annual, Robots in Disguise #9-11 and the 2012 Annual, plus the Thundercracker, Bumblebee, and Megatron Spotlights.
In Shops: 2/10/2016
SRP: $49.99